Author Archives: Sean Crose
Regis Prograis-Devin Haney: A Battle For Stardom
Posted on 12/06/2023
By: Sean Crose
Provided there's no draw or disqualification, Saturday's Regis Prograis-Devin Haney junior welterweight title bout will present the sport of boxing with a legitimate new star. While both Prograis and Haney are popular and well regarded, neither man has reached the point in his career where he is widely considered a true giant in the sport. That, perhaps, is what makes this weekend's match, which will go down at  San Francisco's Chase Center, so fascinating. While the WBC junior welterweight title is at stake (it's currently in Prograis' possession), the chance both these fighters have of attaining stardom makes the scheduled 12 rounder all the more relevant.
With Prograis-Haney being broadcast on DAZN pay per view, there's an argument to be made that, since neither fighter has the ability to bring in a large number of buys, their fight, relevant though it is, should not cost fans any more than a monthly streaming payment. This, however, is the world of contemporary boxing, where even fights that once might have occurred on the undercard of a cable broadcast's main event now cost fans close to one hundred dollars to see live. Having said that, there's no denying that this match is intriguing, as well as relevant.
The 34 year Prograis has turned out the lights on 24 of his 29 opponents, having gone the distance only six times in his professional career. What's more, only one of those fights ended in defeat – a close encounter with the then undefeated Josh Taylor back in 2019. Brash, hard hitting, and fast, the New Orleans' native is colorful both in and out of the ring. Prograis has certainly been talking a great deal in the leadup to this weekend's showdown. Whether or not he's managed to get inside Haney's head remains to be seen.
As for Haney, the 25 year old has gone undefeated since starting his professional career back in 2015. With a record now standing at 30-0, the polished and determined San Francisco native is clearly looking to impress in front of a hometown crowd Saturday night. Having bested the likes of Vasyl Lokachenko, there's no doubt Haney has the more impressive resume. Little surprise then that it's Haney whose favored heading into the weekend. Yet it's Prograis' weight class that Haney's entering on Saturday, as well as Prograis' title that he's fighting for. With much more than a world championship at stake, then, there's no reason in the world for each man not to bring his A-game.
More Headlines
Caleb Plant Is "Just Trying To Get That Charlo Fight."
Posted on 12/05/2023
By: Sean Crose
"Just trying to get that Charlo fight," Caleb Plant tells Fight Hub's Marcus Hayes in an interview posted Tuesday night. "That's what we want next." Without doubt a matchup between former IBF super middleweight titlist Plant and current WBC middleweight titlist Charlo is an intriguing proposition. Indeed, Tennessee native Plant makes it clear that he's ready to get it on with the older (by one minute) of the Charlo twins, Jermall and Jermell. "I don't need a tuneup going into that fight," says Plant. "It doesn't matter if I've been off a little bit. I want that fight right next." Plant goes on to indicate that a bout between himself and Charlo would be an easy one to make.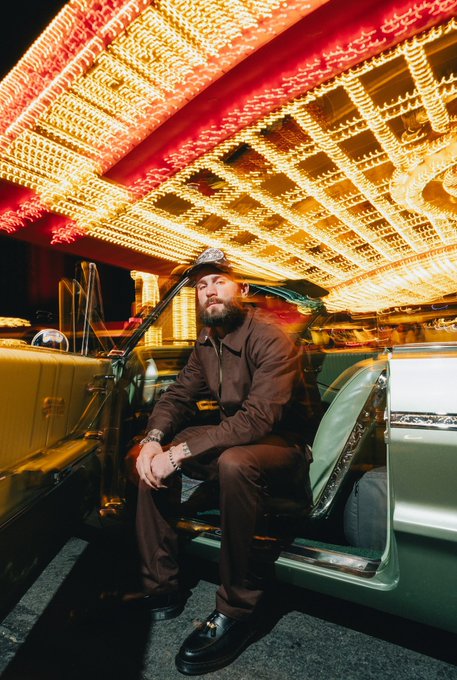 "I'm not hard to make a fight with," he said, "and I ain't hard to find." Two weeks ago, Charlo fought for the first time in over two years. Although he soundly defeated the brash Jose Benavidez, Plant makes it clear talking to Hayes that he wasn't a big fan of Charlo's performance. "It wasn't nothing spectacular," he says of Charlo's comeback fight. "He's in there against a much smaller guy. He got his job done. He won. I'm glad he won. That's what I wanted, for him to win, so we can make a fight happen." Again, however, Plant clearly wasn't left in awe of Charlo's performance against Benavidez.
"It's not like I was super impressed or anything like that," Plant says, "but I'm glad he won…that's the fight that needs to happen next." Although he comes across as having an easygoing confidence about himself, Plant is in a less than optimal position at the moment, having lost to the two men regarded as the best in the super middleweight division, Canelo Alvarez and David Benavidez. With fans clamoring for Alvarez and Benavidez to square off in the ring, however, the road may be open for a fight between Plant and Charlo.
Sure enough, both men have clashed before, albeit outside the ring. Last summer, a video clip of Plant smacking Charlo backstage at the Terence Crawford-Errol Spence undisputed welterweight championship throwdown made it's way across the internet. Plant later said that the smack was in reaction to Charlo yanking his beard. "A man has got a right to defend himself," he said. "I told him knock that shit off, but he wouldn't listen." Clearly there's a very lucrative way for each man to settle things once and for all.
More Headlines
Regis Prograis: "I'm Prepared For 12 Rounds Of Brutality"
Posted on 12/04/2023
By: Sean Crose
"I think it's going to shock him about my speed, how fast I really am." So says Regis Prograis in an interview with Fight Hub's Marcos Villegas on the eve of his highly anticipated pay per view bout against the lauded Devin Haney this weekend in San Francisco. Haney is said to be giving up his numerous lightweight world titles in order to move up in weight. Don't expect WBC junior welterweight titlist Prograis to be impressed, however. "I don't respect shit about Devin, the Haney's," he says in the Fight Hub interview. "I don't respect nothing about none of those dudes on the other side. We gotta fight next week so I don't respect shit about Devin."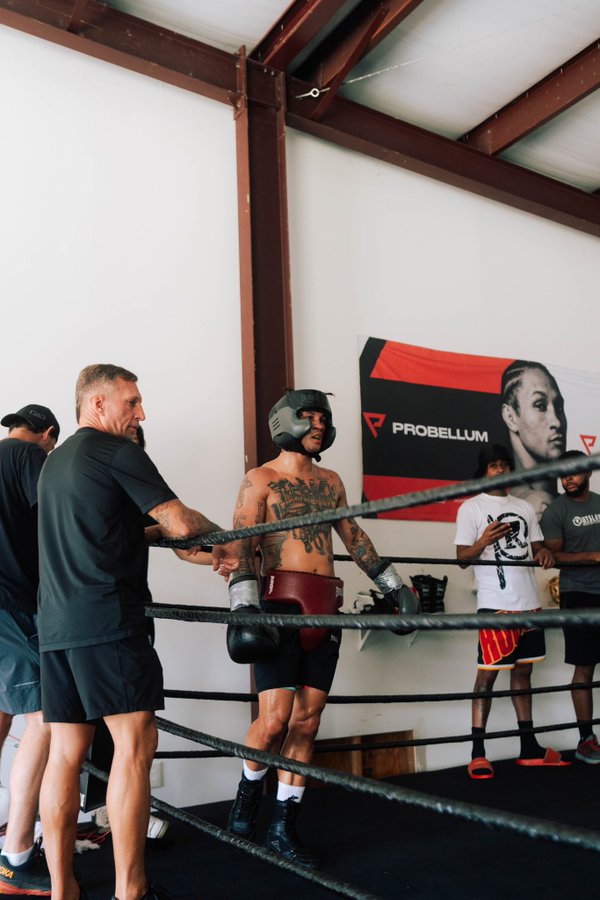 As for Haney's highly regarded slick skill set, Prograis appears unimpressed. "I just think he's not going to be able to take mine," Prograis says in reference to his power. "It's definitely going to be a different story with me." It's obvious Prograis isn't lacking in confidence leading into this weekend's fight. "I'm going to disable him," Prograis claims. "All that clinching, it's not going to work." Bottom line, Prograis feels Haney has never come across someone like himself. "I'm prepared for 12 rounds of brutality," he says. "He can focus on whoever he wants to, but for me, I'm locked in on him."
This is one of the better matches made in a year with numerous high profile pairings. Haney hasn't lost a single fight and looks like a walking, talking skill set in the ring. Prograis has lost a single time, to the impressive Josh Taylor back in 2019. The product of New Orleans has won five in a row since then, however, and is clearly a tough out for anyone at 140 pounds. He's owned the WBC junior welterweight title since defeating Jose Zepeda late last year.
Unsurprisingly, Haney is the favorite walking into Saturday's fight. Taylor was an impressive opponent, but the fact he defeated Prograis indicated that there was a way the impressive American could be defeated. What's more, Haney recently had a complete shootout with the formidable Vasyl Lomachenko. And, although the fight could have gone either way, Haney stepped out of the ring the winner that evening. Still, it's Prograis who will be the defending champion come Saturday, of a weight class Haney is just now calling home. Things should be interesting once the bell sounds in San Francisco this weekend.
More Headlines
Ryan Garcia Knocks Out Oscar Duarte In Eight
Posted on 12/02/2023
By: Sean Crose
Ryan Garcia's return to the ring Saturday night in Houston was not going as planned.
Indeed, the fans were booing. For in the second half of the fight, Garcia looked as if he might be on the road to victory merely by avoiding his opponent, Oscar Duarte, and firing the occasional shot. The 25 year old Garcia, however, turned the boos to cheers with a single left to Duarte's head in the eighth round of their scheduled 12 round junior welterweight battle. Wobbled, Duarte tried to keep to his feet, but a Garcia combo sent the gutsy Mexican to the mat. He was subsequently counted out. Granted, Duarte may have gotten to his feet before the referee reached the count of ten, but it was hard to blame the ref for making what he felt was – and what probably was indeed – the right call.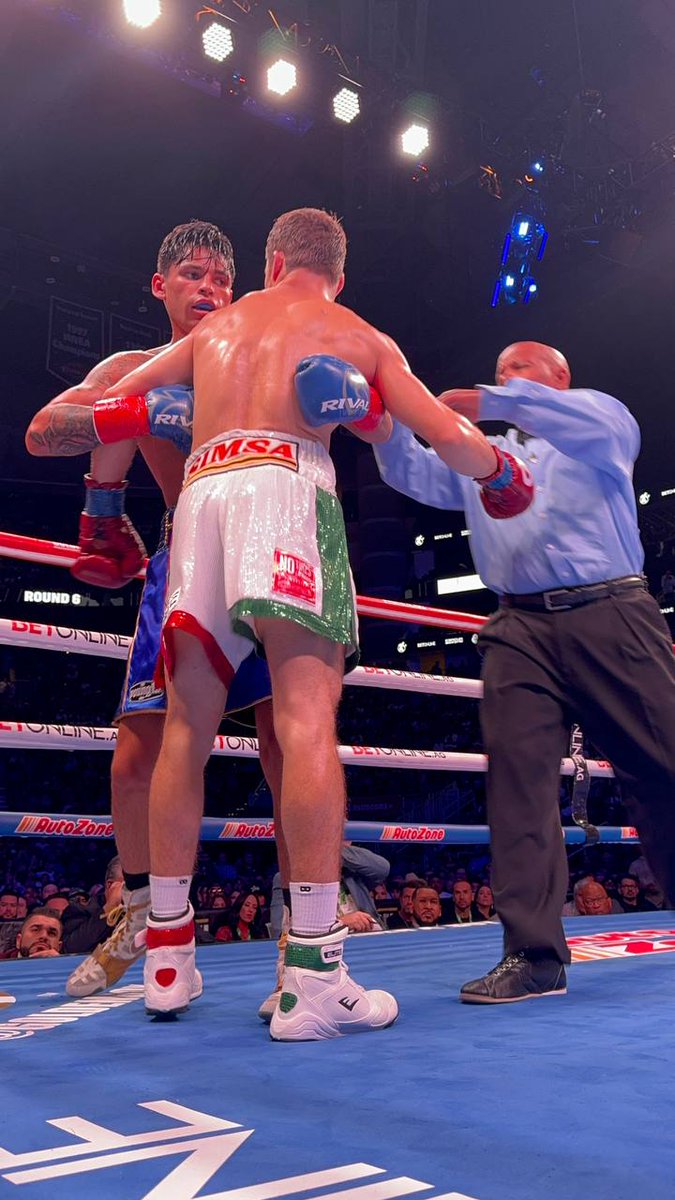 A problem Duarte had throughout the bout was that he refused to lead with his jab while Garcia was allowed to pick his man apart coming in. Garcia rocked Duarte in 6th, but strangely enough almost turned his back numerous times throughout the fight in order to defend himself. When Duarte was able to land, he frequently attacked Garcia's midsection, which may have led Garcia to get on his bicycle throughout the seventh and part of the eighth. This strategy led to the crowd booing, but it was clear Garcia knew what he was doing.
After the fight, Garcia gave thanks to God and expressed his desire for people to turn to Jesus. He also stated that he wanted Rolly Romero as an opponent, as well as other big names in his weight class. Interestingly enough, Garcia did not use the post fight interview to speak ill of Oscar De La Hoya and Bernard Hopkins, the Golden Boy Boxing honchos the popular American fighter has been feuding with quite publicly. Since being stopped by Gervonta Davis in an April superfight, there have been questions regarding how well Garcia would look upon his return to the ring. Although it wasn't a stellar performance from Garcia Saturday night in Houston, it was most certainly an effective one.
More Headlines
Jordan Gill Stops Michael Conlan in Seven
Posted on 12/02/2023
By: Sean Crose
It ended up being all about power. That sort of thing is not uncommon to read about in a fight publication, but junior lightweight Jordan Gill had never been known as a power puncher. At least he hadn't until Saturday night in Belfast, when he stopped the popular and gutsy Michael Conlan in seven. The story was actually a rather simple one. The 6-1 underdog Gill landed on his man in the first, dropped his man in the second, and remained a cool and, yes, powerful fighter for the following five rounds until referee Harold Foster stepped in and put an end to things before the end of the seventh chapter.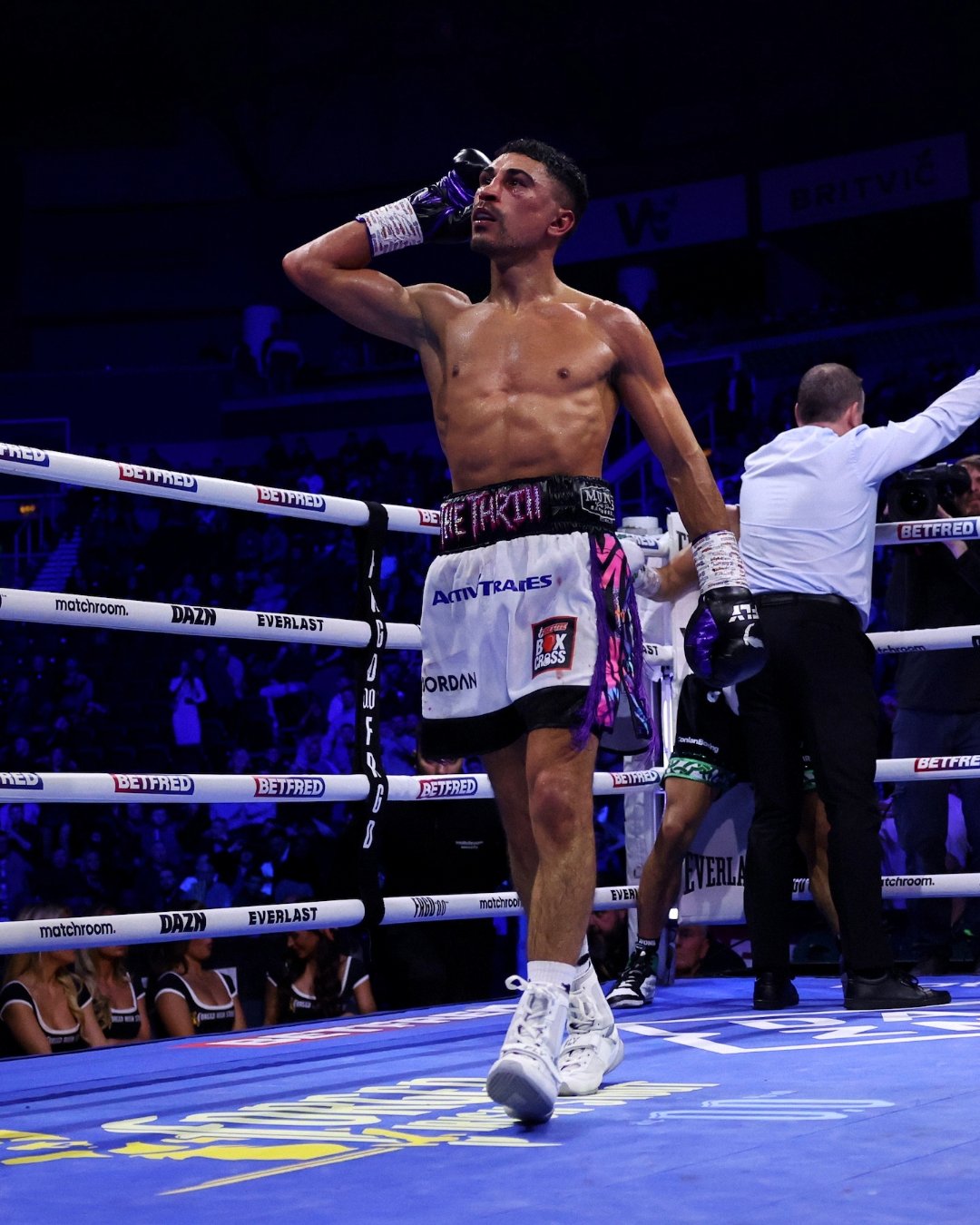 Not that Conlan looked terrible in his junior lightweight debut. There were times throughout the bout where, feet firmly planted, Conlan landed and landed well. In truth, the Irishman had some impressive moments where he was able to land to Gill's body. He simply couldn't weather the storm of Gill's punches when they landed clean, and that was all there was to it. Every time the Englishman landed well, it appeared that Conlan felt it. It was a shame, really, as Conlan clearly had the heart and skill to succeed. The man just didn't have the ability to take it. Frankly, not many can.
Watching the final seconds of the bout, with Conlan being battered against the ropes by the determined Gill, one couldn't help but feel Conlan could have absorbed more punishment – but then what? Too many fighters have received serious damage because a bout wasn't stopped quickly enough. It's simply not worth it run that kind of risk. What happens with Conlan now is anyone's guess. With an 18-3 record, the 32 year old has now lost three of his last five fights by stoppage.
As for the now 28-2-1 Gill, the moment couldn't be sweeter. After having been stopped in four rounds by Keiko Martinez in his last fight, the 29 year old entered the ring needing a victory as much as Conlan did. People didn't think he'd get the victory, of course, but he did. Suffice to say, after going through a dark time as recently as this past summer, Gill has ended the year on a very high note. "I was in a filed," he recalled post-fight of a day last July. "I drunk a liter of vodka and I was going to kill myself and somebody saved me."
Light emerging from the darkness.
More Headlines
WBA To Create New "Super Cruiserweight" Division
Posted on 12/01/2023
By: Sean Crose
And here you were thinking there were already too many world titles out there. The World Boxing Association, once famous for it's ubiquitous titles, has decided there's going to be some more. Why? Because they're creating a new weight division, of course. Introducing Super Cruiserweight. "The World Boxing Association (WBA) Executive Committee," the organization stated online Friday, "approved the creation of the super cruiserweight division in a vote called by the president Gilberto Jesus Mendoza…this new division will be between 200 and 224 pounds, while it will be located between the cruiserweight and heavyweight divisions." 
Although the division is bound to face much criticism (former undisputed cruiserweight champion Oleksandr Usyk currently holds most of the major world heavyweight titles, after all) the WBA argues it's a mater of fighter safety. "The creation of this new weight," the statement reads, "will mainly help to avoid bouts in which the fighters enter the ring with excessive weight differences, as tends to happen at heavyweight occasionally, where there can be differences of 20 pounds or more." The WBA also claimed it had "made several analyses during the last months before thinking about the request, " which was subsequently "submitted to a vote."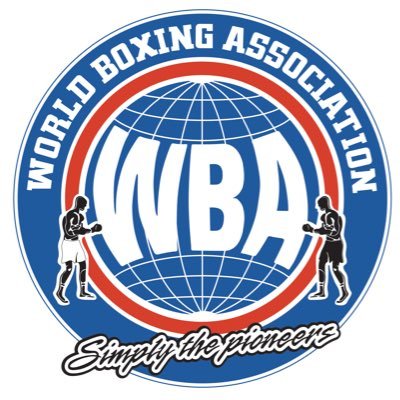 The WBA states that "fighters considered 'small heavyweights' will have the option to move down to super cruiserweight and seek opportunities against more balanced weight opponents, in the quest to make the sport increasingly fairer." The statement goes on to read that "the WBA ranking committee has already begun working on the creation of the rankings for this weight and the first divisional match-ups will be announced soon," concluding with the assertion that "the WBA will continue to work on making boxing a fairer sport that provides opportunities and fairness to all involved, especially the boxers."
While controversy is sure to ensue, the truth is that this all comes down to a matter of trust. The public has very little of it in regard to professional boxing organizations – and not without good reason. Therefore, when one such organization introduces something as major as a new weight division, the announcement is going to be met with raised eyebrows. With that being said, legendary heavyweight champions of old such as Jack Dempsey, Jim Corbett, and Rocky Graziano wouldn't even qualify as heavyweights today.
More Headlines
"They're Backing This Guy To Beat Me." Ryan Garcia Speaks Out Against Oscar De La Hoya and Bernard Hopkins
Posted on 11/30/2023
By: Sean Crose
Things are obviously not going well at Golden Boy Promotions. When one of your star fighters is very publicly confronting your two head honchos at a press conference, there's reason for concern. And indeed, Ryan Garcia confronted both Oscar De La Hoya and Bernard Hopkins on Thursday at the final press conference for this weekend's bout between himself and the hard hitting Oscar Duarte Jurado in Houston. Things apparently came to a head earlier this week when co-promoter Hopkins, via Fight Hype, stated: "I will see how Ryan looks and then make my personal decision on whether he should fight again."
"One thing that's been on my heart," Garcia said after stepping up to the podium on Thursday, "are the statements that Bernard made, where he'll decide if I should continue boxing after this fight. He don't decide that. My coach does. My team does. Everybody that grinds with me day in and day out, that's who decides, and ultimately God decides, not him. Nobody was telling him when to stop boxing, he stopped boxing at 45. Kudos to him but he don't determine that."
The junior welterweight then turned his ire on De La Hoya. "Oscar's saying we misinterpret what they say," Garcia stated. "It's plain English. I didn't hear anybody speaking any language I don't know. It's very clear to me that they're backing this guy (Jurado) to beat me, just like they thought (Romero) Duro was going to beat me. He was the next Filipino star, (now) they saying he's (Jurado is) the next Mexican star. I put everything into this fight. For the first time I'm extremely committed in a long time." Garcia then focused once more on Hopkins.
"Bernard said he'd never lose to a white boy," he said, "then Joe Smith Jr knocked him out of the ring. Last time I checked, Joe Smith Junior is white."
De La Hoya later indicated to Fight Hub that he found Garcia's behavior childish. "When you're dealing with kids," he said, "it's really hard to get across that message, and then you have Ryan saying this and that. It's all B.S." Garcia, one of the most popular fighters in the world, was defeated by Gervonta Davis his last time in the ring. Still, the loss to Davis is the only loss to be found on the hard hitting Californian's resume. His fight with Jurado will be broadcast live Saturday night on the DAZN streaming service.
More Headlines
Devin Haney Will Give Up His Lightweight Titles
Posted on 11/29/2023
By: Sean Crose
According to Mike Coppinger of ESPN, Devin Haney plans on giving up his lightweight titles after he faces Regis Prograis on December 9th for Prograis' WBC junior welterweight title. This is big news, not only because of the fact that undisputed lightweight champion Haney is leaving his four world title belts behind, but also because Haney has done nothing if not proven himself to be a fighter whose career movements are worth following. Jorge Linares, George Kambosos (2x), Vasyl Lomachenko, Haney has risen to the occasion on numerous occasions against first rate competition. Also, his upcoming fight against Prograis shows that Haney is continuing to face the bigger available names out there.
"I did everything at 135 that I could," ESPN quotes Haney as saying. Haney then goes on to indicate that another name fighter (or that fighter's team) wasn't interested in facing him at lightweight. "The biggest fight for me was making that Gervonta Davis fight," he said, "and his side showed no interest in making the fight. I've outgrown the division, so now I make my quest to 140 to become a two-division champion." As rewarding as becoming an undisputed titlist was, Haney made it clear he is now looking to move his career forward.
"I made history in becoming undisputed, and that was a milestone for me," Haney stated, "but now I'm at the point in my career where I want to make the biggest and the best fights happening in the world. I'm a pay-per-view fighter." Some might argue – correctly – that there are too many pay per view fighters in the boxing industry at the moment. Still, virtually no one could correctly argue that Haney isn't one of the most highly skilled practitioners of the professional boxing scene. Although he's not a power puncher, Haney has the ability to fight at a fast pace, as was evidenced by his high octane battle with Lomachenko.
With that in mind, Haney will have to put his impressive skills to good use against Prograis in December if he wishes to emerge victorious from their battle in San Francisco. Prograis, after all, is a world titlist for a reason. Not only can he hit, Prograis possess a confidence which can be alarming to his competition. Not that Haney is apt to be drained of confidence himself when he enters the ring on December 9th. He's fought at this level before and has always emerged victorious. As Prograis might well point out, however, there's often a first time for everything.
More Headlines
Eight Years On, It's Still "The Tyson Fury Show"
Posted on 11/28/2023
By: Sean Crose
Those "in the know" had written him off before the opening bell. Tyson Fury, they indicated, was an unserious man, certainly not someone to be viewed as a legitimate threat, least of all to the likes of the great Wladimir Klitschko. Then, of course, Fury shocked the world by defeating the previously dominant Klitschko for the Ukrainian's numerous world heavyweight titles. So much for being "in the know." The Fury-Klitschko decision upset may have stemmed from a boring, a very boring, fight but the 2015 shocker proved two things: that Wladimir Klitschko, a supersized heavyweight, had trouble with other supersized heavyweights, and that Fury, that jolly clown from Great Britain, was no joke in the ring.
Indeed, as time has moved on, the public has learned that Fury isn't a joke outside the ring, either. Oh, the guy has his moments, obviously, but Fury's actually a family man who has had his share of issues. Food. Booze. Drugs. Mental Illness. The journey of Tyson Fury hasn't been an easy one. With that being said, Fury is, almost a decade after his upset over Klitschko, a two time world heavyweight titlist. Such things – pardon the pun – carry weight. And when a man of Fury's – again, pardon the pun – stature is dropped and given a real run by a boxing novice, as Fury recently was against MMA great Francis Ngannou, people are going to rightly be disappointed.
Of course Fury has the chance to redeem himself when he battles Oleksandr Usyk for the undisputed heavyweight championship of the world this February. Usyk is a top notch competitor, however, a fact evidenced by his two fight dominance of Fury's fellow Englishman Anthony Joshua. The truth is that the Tyson Fury Show is full of surprises. One literally never knows what to expect. Whether he's being dropped by a much smaller man in Steve Cunningham, being stripped of his world titles, performing brilliantly against Deontay Wilder, going up and down in weight or even discussing his own future, one never knows what Fury is going to bring to the table one minute to the next. One wonders if Fury himself knows.
And that's what makes the man maddening – and fascinating. How exactly will history judge this towering Englishman? That remains to be seen, which is an odd thing for a fighter who has been in the spotlight for as long as Fury has. When it comes to The Tyson Fury Show, one is as apt to witness brilliance as one is apt to be told it's the final episode, that the man is retiring. Even then, however, people will have to wait for the truth to reveal itself. Fury is known to hop in and out of retirement, after all. One thing is certain, when Fury finally does hang up the gloves for good, he'll be remembered (perhaps among other things) for being one of the more fascinating individuals in a sport overflowing with them.
More Headlines
Canelo Alvarez-David Benavidez: It's Time.
Posted on 11/27/2023
By: Sean Crose
Anyone who saw David Benavidez' brilliant performance against Demetrius Andrade Saturday night couldn't help but walk away impressed. Yes, he broke Andrade down in nearly disturbing fashion, but what was even more telling was the way Benavidez got through what must have been a frustrating first few rounds before he was able to change the course of the fight. Make no mistake about it, Andrade is an excellent fighter, and it showed early on in the bout, as he spit off combos while moving about the ring in a nearly dazzling display of footwork. It ultimately didn't matter.
Benavidez kept his focus and eventually was able to land on his polished opponent – and it was all over soon after that, with Andrade's corner mercifully sparing their fighter more punishment by stopping the match after the sixth round. In a sense, the explosively hard hitting Benavidez' performance was reminiscent of another highly regraded fighter – one Canelo Alvarez. Like Canelo, Benavidez doesn't get overwhelmed when things aren't going his way. He simply trusts his ability, his talent, and his power. Sooner or later, he's going to land…and when Benavidez lands, things have a way of going downhill for his opponent.
Just like Canelo.
The truth is that being in possession of every major super middleweight title means Canelo must indeed face Benavidez sooner rather than later. It's time. With that being said, it's hard to imagine Canelo ducking Benavidez. Not that it will stop people from accusing Canelo of doing just that. Boxing fans are a tough breed, after all. Canelo, however, has battled a whose who of major competition throughout the course of his career. He's a brilliant fighter and the thought of he and Benavidez squaring off in the ring is an enticing one – perhaps the most enticing in the sport right now.
Times change, after all, and though he's a mere 33 years of age Canelo now stands as a member of boxing's Old Guard. The 26 year old Benavidez, on the other hand, epitomizes the up and comer ready for his moment in the spotlight. Sure, Benavidez has already been a world titlist, but facing Canelo is another matter entirely…like seeing if you can climb the sport's Mount Everest. Only two fighters have recorded wins over Canelo, after all. One is dominant light heavyweight titlist Dmitry Bivol and the other is the legendary Floyd Mayweather. Even if he's a bit past his prime, Canelo remains the best in the business – at least until Benavidez gets a shot at him. Can Benavidez actually best Canelo, however? The answer to that question could captivate the fight world and possibly beyond.
More Headlines
David Benavidez Stops Demetrius Andrade In Six. Gutsy Rhode Islander Saved By His Corner
Posted on 11/26/2023
By: Sean Crose
Two of the most avoided practitioners in the entire sport of boxing clashed in the ring in Las Vegas Saturday night. Indeed, the battle was the main event of Showtime Boxing's final pay per view card. Both David Benavidez and Demetrius Andrade were former world titlists with exceedingly impressive records and an ability to make possible high end opponents turn the other way. The fact that they decided to fight each other made for an interesting scenario, as the power punching Benavidez was pitting his crushing shots against the slick, fluid skill set of Andrade.
Sure enough, the 32-0 Andrade took to jabbing the 27-0 Benavidez in the first. He also took to holding his man when it looked like Benavidez was about to go on the attack. Andrade ended the round with a flurry. Andrade fired off flurries on his man in the second. Indeed, Benavidez was unable to figure the awkward Rhode Islander out early on in the bout. Still, Benavidez was able to come alive and land in the third – not that it wasn't a very close round. The fourth was close, as well – until Andrade went down. The man was able to beat the count, but Benavidez' power shots were clearly taking their toll.
Benavidez proceeded to thud away at Andrade in the fifth. Andrade fired well himself at times, and indeed proved himself a warrior at round's end by trading ferociously with his man. Benavidez, however, was clearly doing considerable damage. After the ring doctor okayed Andrade's return to action in the sixth, Benavidez was back on the hunt. Then, when it looked like Andrade was done, Andrade actually caught his man. Benavidez shook it off, however, and went back on the attack.
In between rounds, the referee threatened to stop the fight – and understandably so. Andrade's corner responded by telling the referee to go ahead and put an end to what had essentially become a dangerous endeavor for their fighter. And that was that. "Gimme the fight we all want to see," Benavidez said afterward, referring to divisional undisputed champion Canelo Alvarez. When asked how he was able to turn the fight around in his favor, Benavidez offered a simple response. "Because of hard work and dedication," he stated. To his credit, Andrade stepped forward and openly gave Benavidez credit. "David was the man today," he said. "Congratulations to him and his family."
"I'll be back," he promised.
More Headlines
Jermall Charlo Outclasses Jose Benavidez
Posted on 11/25/2023
By: Sean Crose
WBC middleweight champion Jermall Charlo faced Jose Benavidez in a 10 round non-title bout Saturday night in Las Vegas. The fight, which was the co-main event of the David Benavidez-Demetrius Andrade pay per view card, was supposed to be held at a catchweight of no more than 163 pounds. Charlo, however, didn't make the weight, coming in over three pounds heavier than he was supposed to. The match, however, was allowed to go on nonetheless, after Charlo agreed to provide Benavidez a portion of his own pay for the bout.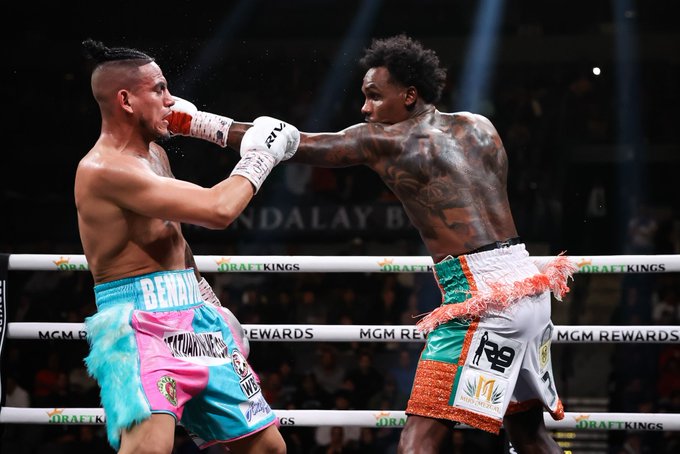 The 28-2-1 Benavidez started pressing the action against the 32-0 Charlo right off the bat in the first. By the end of the round, however, it was Charlo who was dishing out the punishment. Benavidez had his moments in the second, but it was Charlo's jab which told the tale. The third was competitive, with Benavidez once again having his moments, but Charlo's jab based strategy continued to be effective, as well. Indeed, that jab began to tune Benavidez up in the fourth.
Benavidez had a good fifth. Charlo, however, may have had a better one. Benavidez' flurries were no doubt effective, but Charlo's masterful and powerful jab continued to find their mark repeatedly. The truth was that Benavidez simply didn't look to be strong enough to do any damage to Charlo. The sixth, simply put, was target practice for Charlo. With that being said, Benavidez had a strong seventh for himself. The same couldn't be said for the eighth, where Benavidez took a beating.
Benavidez fought bravely in the ninth, as he had the entire fight…but Charlo was just too good for him. Benavidez was the more active of the two in the tenth, but Charlo frankly didn't seem to care. He had essentially put a beating on Charlo and it was hard to imagine the judges getting it wrong after the final bell had rung. And indeed the judges did their job correctly, rewarding Charlo with a unanimous decision win.
More Headlines
Katie Taylor Returns To Defeat Chantelle Cameron In Thrilling Rematch.
Posted on 11/25/2023
By: Sean Crose
Katie Taylor become the undisputed junior welterweight champion of the world Saturday in her native Ireland by besting reigning champion – and previous Taylor conqueror – Chantelle Cameron in a spectacular fistic display. The 22-1 Taylor aimed to avenge her loss to the 18-0 Cameron, who defeated Taylor via majority decision back in May. Cameron, however, was most distinctly not the type of fighter to simply give away her hard earned titles.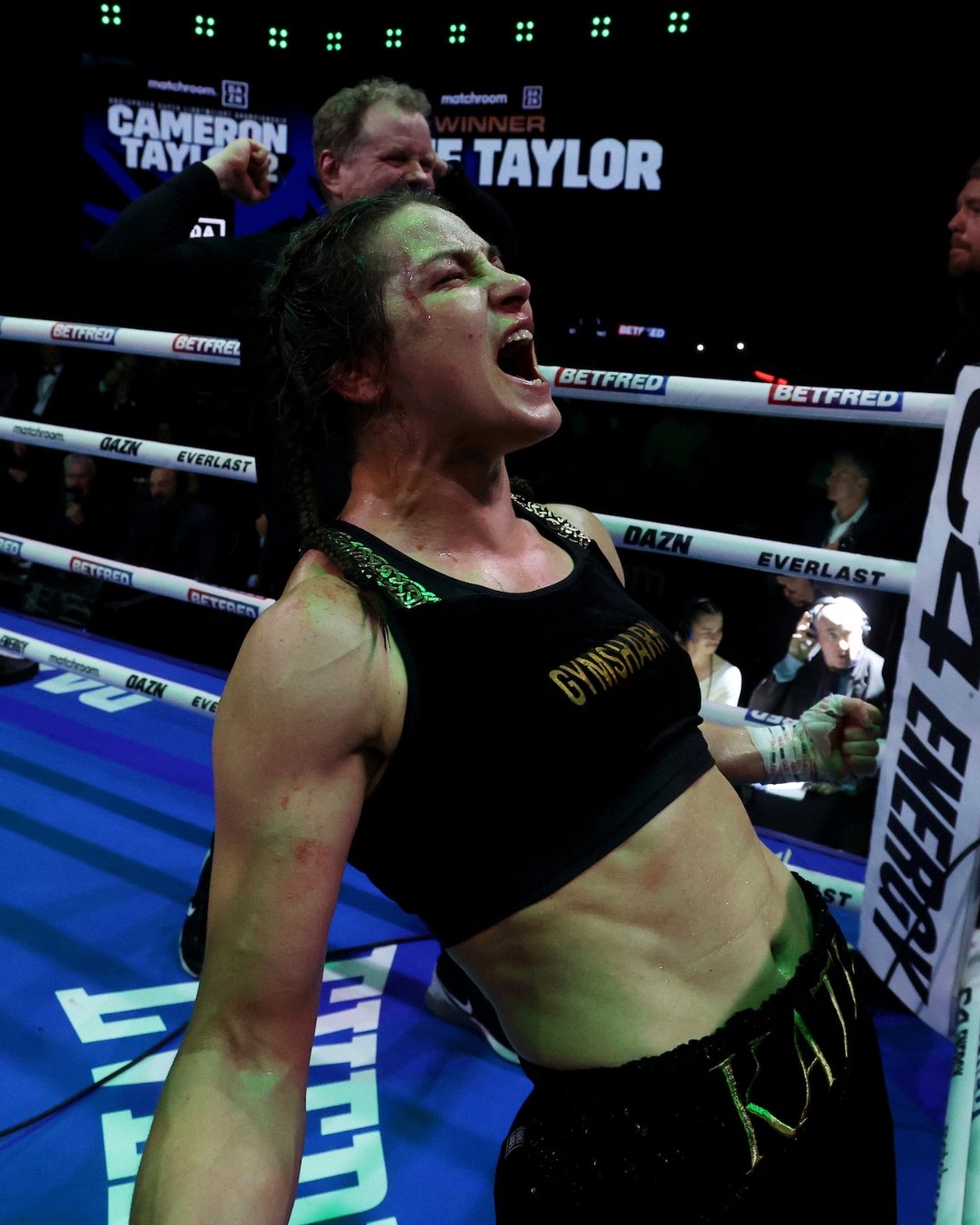 The fight, which was scheduled for ten two minute rounds, began with Taylor employing solid footwork while both she and Cameron fired off effective jabs. Taylor went down in the round, but it was ruled a slip. Both fighters exchanged in the second. Taylor, however, appeared to edge the chapter with sharper punching. The third saw Taylor trying to maintain range while counter punching. The round had it's blistering moments, to be sure, especially when Taylor threw in spitfire combinations.
A cut on the right hand side of Cameron's forehead led to the ring doctor giving it a look and giving it an okay before the action resumed at the start of the fourth. Some of Taylor's flurries didn't didn't always land cleanly, but Taylor's clean shots – which caused the Irish fans to explode into cheers – were telling. With that being said, Cameron's jabs were well delivered in the fifth. Cameron also did good work cutting off the ring from Taylor in the round.
Taylor looked like she might be getting a bit tired in the sixth. Suffice to say, Cameron delivered a strong round. There was a lot of holding in the high octane seventh. The round, however, ended with the fists of both combatants flying. The eighth was enough for fans to ask exactly how much energy these fighters had in them. The pace was blistering, the heart of each woman extremely impressive. Taylor proved she was still able to engage in high energy bursts in the ninth. Yet Cameron, her face a mask of blood, fought furiously herself.
The tenth and final round saw Taylor maintain range and hold – at least at first. The end of the bout however, transformed in large part into an explosive firefight. Ultimately it was Taylor who got the judge's nod after the fight had ended. She is now the undisputed champion of the both the lightweight and the junior welterweight divisions, an extraordinary achievement. With that being said, a third fight with Cameron may well be in order.
More Headlines
Jermall Charlo Misses Weight
Posted on 11/24/2023
By: Sean Crose
WBC middleweight titlist Jermall Charlo's return to the ring this weekend after a two-plus year absence is off to a less than stellar start. The 33 year old missed weight not once, not twice, but three times on Friday as he weighed in for his scheduled match on Saturday against the abrasive Jose Benavidez. Stepping onto the scale the first time on Friday, the undefeated Charlo weighed in a 166.4 pounds, a full three pounds overweight. Charlo went to the scales again a short time later, and weighed even more – 166.6 pounds. Suffice to say, Benavidez made the 163 pound weight limit easily, tipping the scales at 161.2 pounds.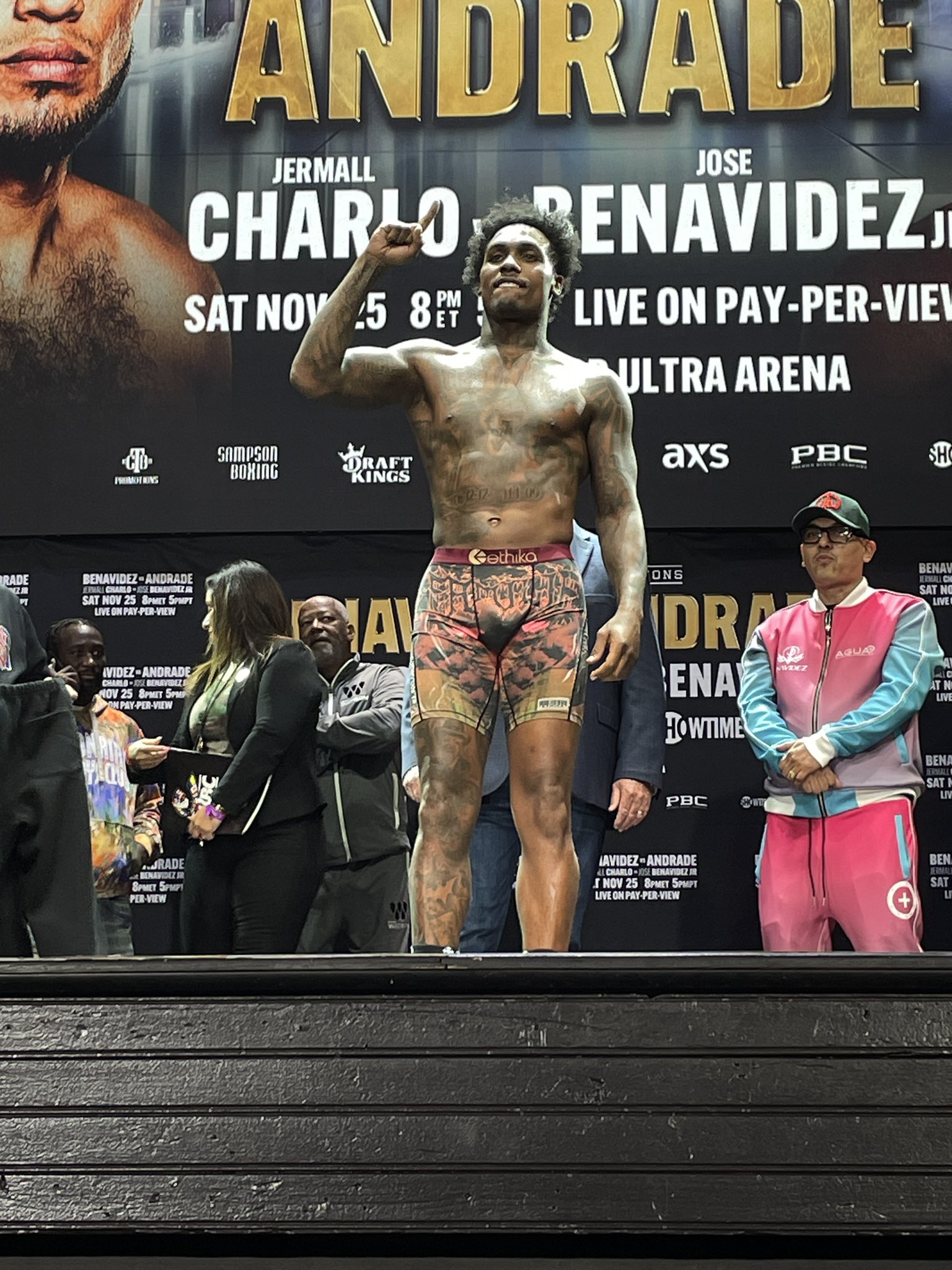 Longtime boxing scribe Dan Rafael stated on Twitter afterward that a deal was being hammered out in order to keep the fight from falling through. By Friday evening, it was clear that a deal had been made, as Charlo had stepped onto the scales once more – this time weighing 166.5 pounds. Without doubt, Charlo will have to cough up some money to fight Benavidez without having made weight. It is, simply put, another bad moment in what has clearly been a rough few years for Charlo, who has admitted to struggling against mental illness.
Numerous fight fans, never known for being a particularly empathetic bunch to begin with, took to social media Friday to mock and sneer at Charlo's inability to live up to his obligations on the scale. Whether one sympathizes with the Texan or not, however, there is little doubt Friday's weight debacle is harming the man's professional reputation. Indeed, Charlo has indicated that he hasn't necessarily pushed himself for Saturday's match. Even if he should defeat Benavidez on Saturday, Charlo's victory will now likely be met with raised eyebrows.
Just a few months ago, Charlo was seen as a natural opponent for super middleweight king Canelo Alvarez. Canelo, however, ended up facing Charlo's twin brother Jermell in a less than thrilling throwdown that saw the red haired star win easily. It's uncertain where Charlo will go from here. Although he clearly is, or at least was, the presumed favorite against Benavidez, it's now somewhat up in the air how things will transpire between the two men in the ring on Saturday. A loss would, of course, be disastrous, but even a less than impressive win would prove to do Charlo no favors. It's a tough business, boxing, even for the most focused of individuals. Those who can't, or won't, focus as they should are putting themselves at considerable risk.
More Headlines
Demetrius Andrade Gets His Moment In The Spotlight
Posted on 11/22/2023
By: Sean Crose
I was sitting ringside in between fights at a Connecticut Casino when I noticed he was next to me, speaking with one of the other reporters. Demetrius Andrade was checking out the fights that night and was discussing when he himself would be returning to boxing after a long layoff. I remember asking myself when the talented Rhode Islander would finally find himself in the spotlight. Years later, I once again found myself ringside watching Andrade in action, this time inside the ring at Boston's TD Center. I had been excited to cover Andrade's scheduled fight against Billy Joe Saunders that night. Finally, I felt, Andrade would be facing competition worthy of his skill set. Sadly, Saunders had to pull out of the fight and Andrade was left to face the widely unknown Walter Kautondokwa instead.
Now, over half a decade later, Andrade will finally get his chance to shine when he faces the intimidating, hard hitting, and confident super middleweight David Benavidez this Saturday in the main event of Showtimes' final pay per view card. It may be the end of an era as far as Showtime Boxing is concerned, but it will be the beginning of an entirely new era for Andrade if he manages to best the menacing Benavidez. That, however, is no guarantee. This is a very nice matchup on paper. Credit to Benavidez for taking on a serious challenge this Thanksgiving weekend in Las Vegas when he could have made things a lot easier on himself by picking a lesser opponent while waiting for a chance to finally get inside the ring with undisputed super middleweight king Canelo Alvarez.
Make no mistake about it, Andrade is going to have his work cut out for him when he slips between the ropes at the Michelob Ultra Arena on Saturday. Sure enough, a lot will be at stake for both fighters this weekend. It will be difficult, after all, for Canelo to continue to be the undisputed champion of the division without having to face the winner of this matchup. No one truly knows what's going to transpire when Andrade and Benavidez answer the opening bell. It's a certainty, however, that Andrade will have finally gotten his moment in the spotlight. What he'll do with it is up to him – and, of course, Benavidez. He's longed for this opportunity for ages. If Andrade wants another one like it, he'll have to earn it in the ring.
More Headlines