Author Archives: Sean Crose
McGregor Says He's Facing Pacquiao
Posted on 09/25/2020
By Sean Crose
"I'm boxing Manny Pacquiao next in the Middle East."
So UFC star Conor McGregor informed social media on Friday. There has long been talk of the all time MMA great slipping between the ropes to face the all time great boxer. If McGregor is to be taken seriously – the match might actually become a reality.
"It will be a true honour to have faced two of the greatest boxers of the modern era, afraid of a fight," McGregor posted a short time later. The Irishman stepped into the ring to fight Floyd Mayweather in a mega-bout back in 2017. He lost in one sided fashion, of course, though didn't look as bad as some predicted he would. Since that time, McGregor has fought twice in the UFC octagon, losing one match and winning the other.
The question now is whether or not the famously mouthy and eccentric McGregor is telling the truth, trolling or living in a pipe dream. Pacquiao, who holds a piece of the welterweight title, is over forty, but is also a much more violent boxer than Mayweather was. What's more, neither of the two men, McGregor or Pacquiao, have been in a professional prize fight since 2019.
McGregor's announcement has, of course, broken the internet. It's also being reported that both camps are seriously discussing the potential fight. Notable MMA journalist Ariel Helwani reports that McGregor's trainer told him the fight could take place in late 2020/early 2021 , possibly in the middle east.
More Headlines
Dorticos-Briedis May Be Best Matchup Of Weekend
Posted on 09/25/2020
By: Sean Crose
The biggest fight that all but the most serious of American boxing fans haven't even heard of is going down Saturday at the Plazamedia Broadcasting Center in Munich, Germany. For there, Yuniel Dorticos and Mairis Briedis will battle to decide who is the winner of the Cruiserweight World Boxing Super Series, which has been running now for around two years. Covid-19 has, unsurprisingly, pushed back this fight repeatedly. The match will be aired live on ESPN+ here in America starting at 2:30 PM eastern time. The winner will receive the Muhammad Ali trophy and will walk out of the ring in possession of the IBF cruiserweight title belt.
 The 24-1 Dorticos likes to employ an overhand right but has the ability to effectively put his punches together. He can also be particularly damaging with an uppercut. Having won all but two of his 24 victories by knockout, it's clear the man can turn out the lights. In his single loss, Murat Gassiev was able to take advantage of Dortico's willingness to stand right in front of an opponent, thus making himself an easy target. The fact that Gassiev was able to finish his man during the last minute of the fight showed that Dorticos' defense left some things to be desired. Dorticos has won two in a row since that time, however, and was able to outright knock out Andrew Tabiti in his last fight.
Briedis has a good overhand right of his own, one which has allowed him to score highlight reel knockouts. Against Manuel Charr, he also showed that he could lay out someone who was moving him back (A lesson for Charr – if someone wants to shake hands, shake hands.). Yet Oleksandr Usyk showed what a nuanced defense could do against Briedis, as he made himself responsible for Briedis' only loss to date.
Frankly, this has the makings of a very entertaining fight. In fact, it has the makings to be the most entertaining bout in a very boxing-heavy weekend. When one considers the level of matchup Dorticos-Briedes is, that's really saying something. Ultimately, I think this is all going to come down to the little things. This is the sort of scenario where one small mistake can lead to either man being counted out by the referee. Each fighter really has to bring his A- game and not get lazy in there. Consistency in the ring will be the key to victory for both men.
More Headlines
Showtime's "Charlo Doubleheader" Pay Per View Preview
Posted on 09/24/2020
By: Sean Crose
Saturday night is a huge night for boxing. For Showtime will be airing a "Charlo Doubleheader," courtesy of Premiere Boxing Champions, on Pay Per View. The card, which will go down live at Connecticut's Mohegan Sun Casino Arena, will feature the most famous twins in boxing, Jermall and Jermell Charlo, as they battle serious competition in title bouts. It's the first major Pay Per View to land on American soil since Tyson Fury rematched Deontay Wilder last winter. It's also the first major Pay Per View featuring the Brother's Charlo – a fact that will generate much interest for those hoping to elevate the twins from popular boxers to true stars.
Older brother (by one minute) Jermall will be putting his undefeated record and WBC middleweight title on the line against the menacing Sergiy Derevyanchenko in a scheduled 12 rounder. This is an extremely interesting matchup and perhaps even a tossup regarding who should be expected to win. Although he has two losses on his resume, Derevyanchenko performed extremely well in those fights, which were against top competition. It's hard for even the most contemporary of contemporary boxing fans to write off close battles with the likes of Daniel Jacobs and Gennady Golovkin. If Jermall can impress against his highly skilled Ukrainian opponent, his stock may rise exponentially. Should Derevyanchenko pull out the win, he will finally achieve his year's long goal of becoming a middleweight titlist.
As for the younger Charlo brother, Jermell is facing Jeison Rosario for Rosario's WBA, WBC, and IBF junior middleweight titles. Few were expecting Rosario to win those belts when he stepped in the ring to face popular champion Julian "J Rock" Williams last year, but win those belts Rosario did, by stopping the defending titlist within the distance, no less. Jermell, however, has an interesting story of his own, for, after losing to Tony Harrison, he came back and stopped his adversary in grand fashion in their rematch. In an era where few fighters hold as many as three major belts, this contest is an important one, no matter how it turns out.
The vacant WBC super bantamweight title will also be at stake on Saturday's card. The undefeated Luis Nery will be facing Aaron Almeda, who is undefeated, as well. Although clearly talented, Nery's discipline has been a question for some time now. Missing weight on the scales on more than one occasion has a way of doing that to a fighter's reputation. As for Almeda, he'll make the jump from unknown to known commodity should he best Nery in the ring.
Either way, the winner may well end up facing the winner of another of Saturday's undercard battles. For the popular Daniel Roman will be squaring off against Juan Carlos Payano in a title eliminator for the WBC's super bantamweight scrap. Roman has fought hard to get where he is – some argue too hard. Payano himself has been bested by Nery, but he's got a ton of expertise that he'll bring into the ring with him for this weekend's fight – something Roman is no doubt keeping in mind.
The WBA super bantamweight champion will likewise be on Saturday's card. Brandon Figueroa will be defending the belt against Damien Vasquez in a scheduled 12 rounder. Although he ended up getting a draw from the judges when he faced Julio Ceja his last time in the ring, Figueroa has expressed confidence in the leadup to Saturday. Vasquez, however, has expressed confidence of his own. Indeed, a Vasquez win might well be considered something of an upset, as Figueroa, the defending champion, is arguably the more prominent of the two fighters.
Lastly, John Riel Casimero is set to defend his WBO bantamweight scrap in a battle against Duke Micah on Saturday. Although he had been hoping to face Naoya Inoue, Casimero might still have a fight on his hands as Micah, who goes by the moniker of the "The Baby Faced Terminator," fought on Team Ghana in the 2012 Olympics and is clearly in possession of a solid skill set. Casimero may be well advised to keep his focus on the opponent before him this weekend.
What will make Saturday's card particularly interesting is that it will be broken up into two separate segments divided by a half hour recess. The first portion of the card will present Charlo-Derevyanchenko, Figueroa-Vasquez, and Casimiro-Micah. The second portion will present Charlo-Rosario, Nery-Almerda, and Roman-Payano. The action will begin at 7 PM eastern time.
More Headlines
PBC On FS1 Results: Bravo Bests Gallegos By UD
Posted on 09/24/2020
By: Sean Crose
Fox Sports 1 aired an odd late night card on Wednesday from LA's Microsoft Theater featuring the 18-0 Nestor Bravo facing the 19-8 Jose Luis Gallegos. The night's first fight was a scheduled 8 round super middleweight battle between the 8-1-1 Genc Pillana and the 9-0 Miadel Sando. Although Pillana kept it competitive, Sando ended up winning by scores of 80-72, 79-73, and 78-74 respectively.
Next up, the 15-0 Vic Pasillas battled the 17-0 Ranfis Encarnacion in a scheduled 10 round featherweight affair. Looking every part the impressive warrior, Pasillas clearly got the better of his man. Encarnacion's corner threw in the towel after their fighter went down in the 6th. It was time for the main event.
Although Bravo was the focus of attention here, it proved to be a more difficult fight than was perhaps expected, as Gallegos was determined to take it to his man. Bravo tried to outbox Gallegos, but he also engaged in enough rough stuff for referee Jack Reiss to take not one, but two points away from him during the course of the 10 round fight. Bravo, however, was still able to earn a win as the judges' cards read 97-91, 96-92, and 96-92.
More Headlines
Charlo Brothers Eager To Highlight Saturday's PPV Card: "Now Is Our Time."
Posted on 09/23/2020
By: Sean Crose
"This is just the beginning for me," WBC middleweight champion Jermall Charlo said at Thursday's press conference for his fight this Saturday night with Sergiy Dreevyanchenko. "There's been 30 fighters who've tried to beat me, and all 30 failed. We'll get a chance to get in there and do what we do best on Saturday. Talk is cheap. We'll see where that green belt goes on Saturday." Jermall's fight with Derevyanchenko will be part of a Charlo-centric PPV double header that will be aired live from Connecticut's Mohegan Sun Casino on Showtime Pay Per view. Although twin brother Jermell is also highlighting the event, Jermall made it clear he's zoned in on the dangerous Derevyanchenko.
"I'm focused and locked in," said Jermall. "I'm ready to fight. Sergiy can say what he wants to say about me, it's going to be a fight on Saturday." For his own part, Derevyanchenko exuded confidence of his own. "The green color of the WBC belt suits me," he said. "I want that green belt. I've fought twice for the title, and I'm more ready than ever for the third time." Although his only losses came at the gloved hands of Gennady Golovkin and Daniel Jacobs respectfully, Derevyanchenko – who was extremely competitive in both fights – made it clear Thursday that he was looking ahead. "This is a big fight," he said. "When I win, even more opportunities will open up. I'll be able to unify and take my career to the next level."
While Derevyanchenko was locked in on his fight with Jermall, WBA, WBC, and IBF junior middleweight champion Jeison Rosario kept his focus on younger (by one minute) brother Jermell. "This is going to be a war," he said of his impending battle with Jermell Saturday evening. "I'm a warrior, and I'm going to find a way to win. That's the only thing on my mind." Although he may be an underdog, Rosario expressed his readiness for the ring. "I'm prepared for the fight to go the distance," he said, "but I also have the stamina to finish it early and take advantage of my opportunity."
For Jermell, Saturday will be a time to showcase his skills under the biggest spotlight he has yet to fight under. "We're going to put on a show," he told the media. "Knowing my brother is also fighting gives me more energy. Fight night is when you see all our excitement and all our hard work pouring out. This is huge for us. We're both doing our thing and feeding off each other's energy."
"Now is our time," he said. "The big dogs are here to stay."
More Headlines
Brandon Figueroa Aims To Impress On Saturday's PPV Card
Posted on 09/22/2020
By: Sean Crose
"It's great to have my family behind me," says WBA super bantamweight titlist Brandon Figueroa, "because they understand what I fight for." At the young age of 23, the 20-0-1 brother of noted past champion Omar Figueroa clearly sees his career as a family affair. "Especially in a career like this," he says of his family, "it's not easy, and they help me a lot both mentally and physically. I'm grateful that they support and push me the way that they do." This Saturday night, however, Figueroa will have to face the 15-1-1 Damien Vasquez at Connecticut's Mohegan Sun Arena essentially alone.
"Training camp for this fight has been going really well," says Figueroa. "I've been sparring a lot with Omar Juarez and a number of guys from here in the Rio Grande Valley. We've just been helping each other out, keeping busy and keeping the work rate up." Figueroa has good reason to be well prepared for the skilled Vasquez, for their fight will be on the PPV undercard of the highly anticipated Charlo Brothers' Double Header (presented by Showtime and PBC). Figueroa's last fight, against Julio Ceja last November, ended in a draw. The fighter now aims to impress this weekend.
"Heading into my last fight, he says, "I had some injuries that I was dealing with… but with this pandemic and the quarantine, I got a chance to recover and fully heal. I've never had this much time between fights, so I feel great now and I'm prepared for this fight. I'm just anxious to fight at this point." Not that his last fight was against a tomato can. "I don't take anything away from Ceja though," says Figueroa. "He came to fight. But we learn from every fight. What I took away from it was that even at the worst moment of my career, I didn't lose. I'm a different fighter now, though. I'm healthy heading into this upcoming fight and I feel like everyone is going to see a different type of Brandon Figueroa."
So confident is Figueroa at the moment that he claims he's willing to take on pretty much anyone in the super bantamweight realm. "At this point, I feel like any fight with me against a top 122-pounder is a great fight," says Figueroa. "I'm willing to mix it up with any of them. I honestly don't care who wants to fight me, I'll take any of them to put on a great show for the fans. My team knows that as well. So hopefully after September 26 we can make a great fight with any of the other top fighters in my division."
More Headlines
Is It Now Or Never For Sergiy Derevyanchenko?
Posted on 09/21/2020
By: Sean Crose
Saturday night, at the Mohegan Sun Arena in Connecticut, middleweight contender Sergiy Derevyanchenko will be facing WBC middleweight champ Jermall Charlo in a highly anticipated Pay Per View main event. This fight looks to be close enough on paper that few are expressing confidence that one man will dominate over the other. In this strange era, where even a single loss is seen as a sign of limited ability, the undefeated Charlo should be seen as having a distinct edge heading into the weekend. Derevyanchenko's two losses, however, have come at the gloved fists of highly regarded fighters. For the Ukrainian has only been bested by Daniel Jacobs and Gennady Golovkin respectively.
What's more, both of those fights were intense affairs. Suffice to say, Derevyanchenko made Jacobs and Golovkin earn their paychecks. The Golovkin fight was particularly close. Charlo will enter the ring on Saturday with little doubt in his mind how dangerous his opponent will be.  "He's going to bring a lot of power and speed with good technical skills," the defending champion has said of Derevyanchenko in the leadup to this Saturday's fight.
Then again, Derevyanchenko isn't exactly writing Charlo off, either. According to the challenger, Charlo represents more of a challenge than Canelo Alvarez would have. That might seem like just talk – until one realizes Derevyanchenko has been in line to face Canelo as recently as a few months ago. In fact, Derevyanchenko has spent the past several years playing the role of dangerous opponent due to the fact that he's always "in the fight." Yet keeping up with more popular fighters in the ring can sometimes only take a contender so far. Derevyhanchenko must truly prove his mettle if he's to beat the highly skilled Charlo.
No matter which way Saturday's bout turns out, it's clear the middleweight division is on the verge of entering a new era. Canelo, perhaps wrapped up in legal issues, may be too advanced in his career to continue making weight at 160. Golovkin, on the other hand, is no longer as young as he was. Jacobs has moved up in weight, as has Billy Joe Saunders. With the enigmatic Demetrius Andrade being perhaps the only member of the old guard ready to fight as a natural middleweight in prime form, the stage is being set for a new ruling class within the division. The question for Derevyanchenko is whether or not he can blast his way into its ranks.
More Headlines
Boxing Set For First PPV Card Since Start Of Pandemic
Posted on 09/20/2020
By Sean Crose
On Saturday night, boxing will once more return to the pay per view business after a long break courtesy of the Covid-19 virus. Twin brothers Jermell and Jermall Charlo will ply their trade against high level opposition at Connecticut's Mohegan Sun arena, which will be void of fans, but not Showtime cameras, which will air the festivities to a paying audience for a price of around seventy five dollars a pop. The last major boxing card to air on pay per view was February's Tyson Fury – Deontay Wilder rematch. Much has changed in the world since that time, but Showtime and Premiere Boxing Champions, which is presenting the card, are betting fans will still be willing to pay for prestige matchups.
Older brother Jermall will be defending his WBC middleweight title against Sergiy Derevyanchenko in a scheduled 12 rounder. This is about as good a middleweight battle one could find that doesn't have the words Canelo versus Golovkin attached to it. Jermall, who has built up a 30-0 record, looks to be on the cusp of stardom while Derevyanchenko's two losses were not only competetive fights, but were against no less than Golovkin and Daniel Jacobs.
Younger brother Jermell, on the other hand, will be facing WBA, WBC, and IBF junior middleweight champion Jeison Rosario. Jermell has but a single loss on his 33-1 resume, and that was against Tony Harrison, who Jermell clobbered in their rematch. As for Rosario – the man rattled the boxing world when he dethroned the popular champion Julian Williams by knockout last January. There's little doubt the 20-1-1 fighter, who hasn't lost in three years and nine bouts, is looking to shake things up again this Saturday. Like his slightly older brother, Jermell looks to be in a real fight this weekend.
The question leading into Saturday, of course, is whether or not fans are going to line up to purchase the card in adequate numbers. While there's no doubt Showtime and PBC are presenting a high quality lineup, the Charlos have never been under this kind of spotlight before. What's more, boxing hasn't been bringing big numbers to pay per view in a while. Last winter's Fury-Wilder rematch, for instance, was said to be a financial disappointment. Worth noting, however, is the fact that most true pay per view draws become draws incrementally over time. Whether that will be the path for either Charlo brother remains to be seen.
More Headlines
Showtime Recap: Lubin Decisions Gausha In Low Octane Fight
Posted on 09/20/2020
By: Sean Crose
Showtime and Premiere Boxing Champions presented a WBC junior middleweight title eliminator Saturday evening with the 22-1 Erickson Lubin taking on the 21-1-1 Terrell Gausha at Connecticut's Mohegan Sun Arena. Both men were looking to move on from their sole losses towards greener pastures. The first round was essentially a feeling out process for the two fighters. Lubin pursued his man in the second, but nothing significant was landed. Things remained slow in round three. Both fighters were too tight to make things interesting, though Lubin seemed to have an edge.
With Gausha not doing much, Lubin continued to look for shots in the fourth. Few clean punches appeared to land in the fifth. By the midway point of the fight, it was clear that it was thus far a battle of hesitation, excessive caution…and virtually no follow through on the part of either fighter. Without a crowd, there were moments of virtual silence. "Don't get bored in here, bro," Lubin was told by his corner.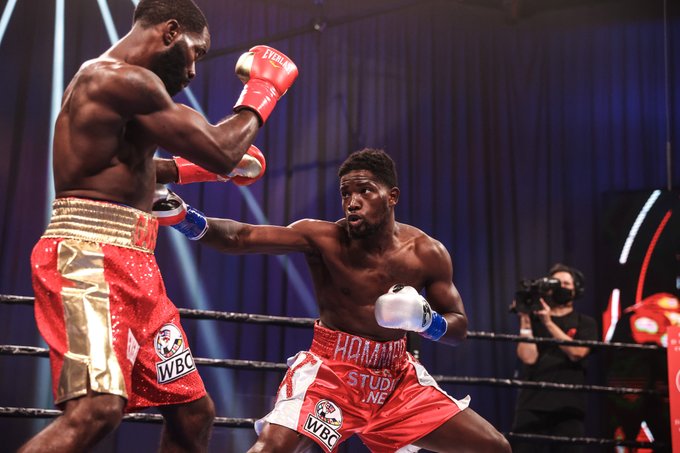 The pace actually began to pick up in the eighth. By the ninth the combatants finally began to engage. There were still long seconds of inaction in the tenth, but Lubin was at least trying to land. Then – out of the blue – Gausha hurt Lubin with a left. Lubin, to his credit, didn't go down. The eleventh was a close affair that showcased decent action. By the final round, it was clear that Gausha simply didn't have the consistent sense of urgency required to be truly effective.
Lubin walked away with a UD win by scores of 115-113, 116-112, and 118-110.
More Headlines
Showtime Recap: Nyambayar Decisions Breedy In High Octane Affair
Posted on 09/19/2020
By: Sean Crose
The 11-1 featherweight Tugstsogt Nyambayar battled the 15-0 Cobia Breedy in a scheduled 12 round featherweight affair on a Saturday PBC card aired live on Showtime from the Mohegan Sun Arena in CT. Nyambayar dropped his man at the end of the first, but Breedy was able to beat the count.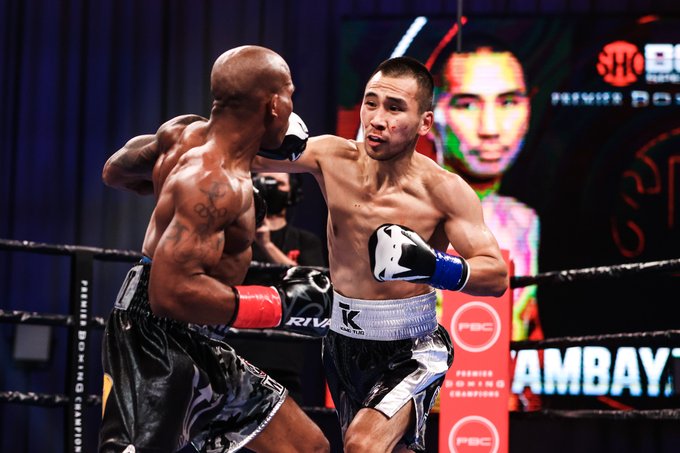 The second round saw Breedy hit the mat again. He once again beat the count, but Nyambayar was very much on the hunt. Breedy bravely kept engaging in the third, and showed that he was still in the fight in the fourth. The fifth and sixth rounds were relatively close affairs.
The seventh and eighth were high energy chapters. Breedy, however, appeared to be getting beat up as the rounds went on. The later rounds showcased the fact that, although Breedy was talented and skilled, Nyambayar was the more effective puncher.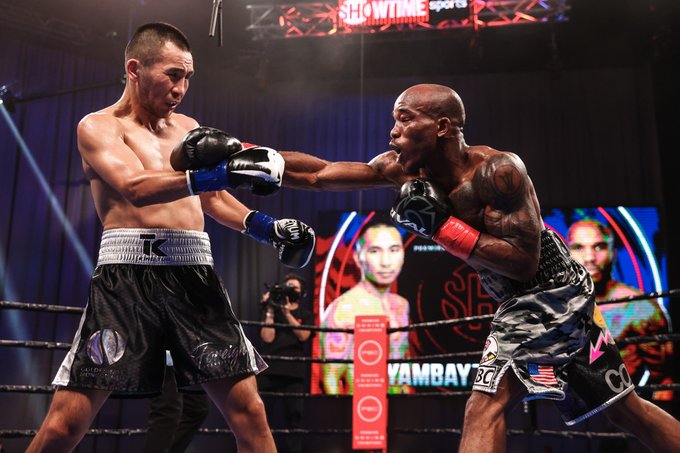 While Nyambayar appeared to have the edge in the final two rounds, it was clear that Breedy was a driven and formidable foe. The man had taken the fight on short notice…his future may well be bright. With that being said, Nyambayar got the judge's nod via split decision: 115-111 for Breedy, 114-112 Nyambayar, and 114-113 for Nyambayar.
More Headlines
Showtime Recap: Rising Welterweight Ennis Tops Abreu
Posted on 09/19/2020
By Sean Crose
Rising welterweight Jaron Ennis, 25-0, took on the 25-3-1 Juan Carlos Abreu in a scheduled 10 rounder at the Mohegan Sun Arena on Saturday. The fight was the opening bout of a three match Premiere Boxing Champions card aired lived by Showtime. Abreu showed up several pounds over the limit at Friday's weigh in, but Ennis' team was happy to allow the fight to proceed.
Sure enough, Ennis was cool, hard hitting and in control during the first three rounds. Abreu fought hard in the fourth. Things then became rough, as Ennis dropped his man in the fifth. Abreu got up, but seemed to want to fight after the bell. Ennis knocked down Abreu again early in the sixth. The game Abreu got up once more, but seconds later was sent to the mat a third time. The referee wisely stopped the fight.
More Headlines
Showtime Preview: Lubin – Gausha
Posted on 09/18/2020
By: Sean Crose
Showtime and Premiere Boxing Champions will be presenting a WBC junior middleweight title eliminator Saturday evening when the 22-1 Erickson Lubin takes on the 21-1-1 Terrell Gausha at Connecticut's Mohegan Sun Arena.
Lubin was on the fast track to stardom when he was crushed by Jermell Charlo in their 2018 battle. Since then, the 24 year old has gone on to win four in a row. By besting Gausha, Lubin can get one step closer to proving his single loss (it's a single loss, for Pete's sake) was just a bump in the road.
As for Gausha, the 33 year old has lost but a single bout of his own – to Erislandy Lara – and has fought Austin Trout to a draw. Other than that, the California native's record is without blemish. This should be an interesting matchup, as the combatants are quality fighters who deserve attention. The fight is scheduled for 12 rounds.
The 11-1 featherweight Tugstsogt Nyambayar will be on Saturday's card, as well. He'll be facing the 15-0 Cobia Breedy in a scheduled 12 round affair. Nyambar was last seen in the ring last February, when he dropped a decision to the uber-talented Gary Russell. Breedy, a replacement opponent, was last seen stopping Titus Williams last December at Brooklyn's Barclay's Center.
Also appearing on the Showtime broadcast will be the 25-0 Jaron Ennis. The 25-0 welterweight will be facing Juan Carlos Abreu in a scheduled 10 rounder. Ennis is the up and comer, with all but two of his wins coming by knockout. Yet the 25-3-1 Abreu has stopped his last two opponents, one being the 15-0 Israel Valerio.
The Lubin-Gausha card will air starting live at 8 PM EST, Saturday on Showtime.
More Headlines
It's Time For Boxing's Circus Period To Come To An End
Posted on 09/17/2020
By: Sean Crose
We should have known. All of us. Three years ago, when Conor McGregor of UFC fame signed to fight the one and only Floyd Mayweather, we all eventually cast our doubts aside and watched the biggest novelty bout in history. Perhaps we thought it was a one time thing that could only draw eyeballs to the sport. How wrong we were. Mayweather-McGregor was most certainly not a one time thing. In fact, it ended up being a template for those with the purse strings to influence the business. Now, a full 36 months after Floyd beat up Conor, boxing has entered a stage where athletic competition is being sidelined by high priced curiosities.
Don't believe it? Ask yourself if any casual sports fan you know has a real interest in the upcoming Lomachenko-Lopez fight. Chances are that fan has no idea who those top level boxers even are. If you asked that same fan if he or she would be interested in fifty something Mike Tyson entering the ring again, however, you'd be much more likely to get a positive reaction. You know it, and so do I. The public is now on the verge of seeing boxing, if at all, as a source of silly fun, while it views MMA with genuine interest and respect. That's not good for the sport that once gave the world true cultural icons like Johnson, Dempsey, Louis, and Ali.
Of course those who are apt to make the most bank off of boxing most likely don't care. That's why DAZN was said to be interested in Canelo Alvarez, the most popular boxer on earth, fulfilling his contract at least partially through novelty bouts. Fights with MMA stars and former ring greats can bring in a whole lot of money. Not much competition, but a whole lot of money.
And now we have word that Mayweather may get in the ring with social media influencer Logan Paul. Perhaps he will. Or perhaps it's all just a rumor. The fact that such a fight can be seen as a real possibility says a lot about the state of the sport right now. Picasso is said to have possibly gone through a "Circus Period," where his paintings focused on circus like settings. Boxing's circus period is turning into an authentic Blue Period.
And it's time for serious fans to start ignoring this nonsense.
More Headlines
Deontay Wilder "Extremely Confident" As Third Fury Fight Looms
Posted on 09/17/2020
By: Sean Crose
He may have gotten beaten up all around by Tyson Fury in their highly anticipated rematch last winter, but former WBC heavyweight champion Deontay Wilder has not let himself fall apart. Rising heavyweight Raphael Akpejiori, who has been taken under Wilder's wing, has had promising things to say about his mentor. "Right now he is in amazing physical shape," Sky News quotes Akpejiori as saying of Wilder, "that I can tell you for sure. You will see a completely different Deontay, mentally and physically in the ring, when that bell rings again for that third fight. That I can tell you."
Although nothing official has been set, Wilder is expected to step inside the ring with Fury a third time within the next several months – possibly on December 19th. The first time the two men met was in 2018. That fight ended in a draw after the impossibly hard hitting Wilder dropped his man in the final round – only to see Fury beat the count. The second match, which went down this past February, was an entirely different affair. Now trained by Sugar Hill Steward, Fury dominated Wilder, whose corner tossed in the towel in round seven. According to his protege, though, Wilder has not been deterred by the experience.
"He's extremely confident," Akpejiori is quoted as saying. "He's very excited about that third fight. I can tell you for sure that he's very hungry, and he's trying to get back into the ring as soon as possible. He's in great spirits, excited to get back to fight Tyson Fury." Although Fury might well be the prohibitive favorite leading into a third fight, Wilder unquestionably has fight ending power. Provided he and his team have a winning strategy, it's not out of the question that Wilder could still pull out the win.
"He will beat Fury if he sticks to the game plan from his coaching staff," said Akpejiori, "and I know that he has all the physical tools." The question now is when the fight will be signed. Although a December 19th date is widely being discussed, nothing has been officially announced. With that in mind, both fighters have reportedly been keeping in shape. Like Fury, Wilder has never been known to lack confidence. As he possibly steps up to face the only man to beat him, it appears the former titlist not only still has self belief, but has the belief of those around him, as well.
"Based on what I know," said Akpejiori, "the only person that can beat Deontay right now, is Deontay."
More Headlines
Jermell Charlo: "I'm Even More Dangerous Than I Was Before."
Posted on 09/15/2020
By: Sean Crose
"I'm excited and I'm ready for September 26," said junior middleweight Jermell Charlo during a virtual workout on Tuesday. "This is the time to prevail and for me and my brother to be the Charlo Twins. It's time to be the best Jermell Charlo." The fighter was referring to his Pay Per View bout next Saturday against junior middleweight multi belt holder Jeison Rosario. The fight will be part of a Showtime and PBC doubleheader which will also feature Charlo's brother, Jermall defending his middleweight title against Sergiy Derevyanchenko. "Fighting on SHOWTIME PPV is amazing," Charlo stated. "This is the one. We have a hard fight and that's all we ever wanted. This is a great challenge for us to overcome."
Of course, Charlo made it clear he realizes these are unusual times. "This is a different kind of media day," he said, acknowledging the strangeness of the boxing business during the pandemic, "but the real fight will be different also. When you're a real champion, you make those adjustments. I'm used to fighting in front of a massive crowd, so it's really important to show that we're giving our all every day for our fans." Charlo, who has but a single loss on his record, has avenged that loss by coming back to beat Tony Harrison, the man who originally defeated him. Still, that one loss continues to motivate Charlo.
Photos By Andrew Hemingway
"I bounced back from that loss in 2018 last year," he claimed, "but there were still things I needed to learn and develop. We're going to end 2020 with a bang. This is the Charlo show on SHOWTIME." Like other fighters, Charlo decided to make the most of the pandemic that has plagued the sport, as well as much of the larger world. ""I used the pandemic to invest in myself and created a gym in my home," said Charlo. "I've been getting in shape since it started. For this fight to be here in a week, I'm just more than prepared for it. I'm on weight and I'm hitting hard."
Although he's a well established figure in the fight game, Charlo still sees himself as a work in progress. "All I'm doing is continuing to grow as an individual every day," he said. "We have to set our minds the right way and know how to roll with the punches. I've taken it upon myself to be even more dedicated and focused. Every time I feel pain, I think about all the other boxers out there pushing through pain. Now you see where we're at because of it."
"I'm even more dangerous than I was before," he claimed. "I'm an old school fighter right here. I've been dedicated to this game and I'm not going anywhere. Stay out of my way, because I'm the man trucking things."
More Headlines