Author Archives: Sean Crose
Keith Thurman On 'Leaked' Errol Spence Sparring Video: "It Should Have Been Private"
Posted on 07/29/2021
By: Sean Crose
"It popped in my feed," Keith Thurman says of a video apparently making the rounds showing Errol Spence sparing in preparation for his fight with Manny Pacquiao in late August. "It was too juicy not to click it," Thurman tells FightHype. There is indeed a video on social media, grainy and somewhat unfocused, showing someone who appears to be Spence sparring in head gear with an unknown sparring partner. The sparring partner uses effective aggression and lands well on at least one occasion. "I bet they pulled it down," says Thurman of the video. "They should have pulled it down."
"We're talking about Errol Spence and his sparring partner, Little Pac Jr," says Thurman in the interview. "Little Pac Jr was jumping in putting hands on him and that didn't look good to the people, especially me, who is rooting for Errol to take out the old with the new." Thurman, who has fought and lost to Pacquiao, has eyes on Spence himself. "I still think you and me is a great fight in the future," he says. Thurman also points out that he's not happy with rumors of Pacquiao running for President of his Filipino homeland. "I can't hate on him if he was to take the fight, take the win, and be out (of boxing)," says Thurman. "It is what it is. But because of that, it doesn't sit right for me, and I want EJ to win the fight."
Still, Thurman admits that the footage in the leaked video in question, is notable. "Seeing how he let his sparring partner jump in on him," says Thurman "get on the inside, put three pieces together, that's Pacquiao's specialty. That's exactly where he excels at. That's what he wants."
Yet Thurman admits that he has his suspicions regarding Errol's notable sparring performance. "The only thing about the 'leaked' sparring is we don't know what that day was like for Errol," Thurman says. "We don't know if he did bag work before that round, we don't know if there was another sparring partner before that sparring partner….there's so much we don't know for the 'leaked' information." In other words, the video is notable, but not THAT notable.
"I still expect Errol Spence to come fully prepared and ready to trade punches against the legendary Pacquiao," Thurman says, "and I still think he (Spence) has the power, the pop, and the ability from his history of his armature career and that Olympic background that he should be able to handle himself in that ring. So we'll see." Ultimately, however, Thurman is not happy that the video has been leaked.
"Whoever filmed that in that gym should never be allowed to walk back into that gym," he says. "That person should be fully kicked out of that gym."
More Headlines
Canelo-Plant Negotiations Now Reportedly Dead
Posted on 07/29/2021
By: Sean Crose
ESPN is reporting that negotiations between Canelo Alvarez' team and Caleb Plant's team are now dead in the water. There had been a report earlier in the week that the hoped for super middleweight title unifier was close to dead. Now the matter appears to be confirmed. Details, frankly, are sparse, aside from the general "he said/she said" nature of such matters. The question now is who, if anyone, Canelo will end up facing in September, a traditional time for him to fight. Canelo had wanted to become the undisputed super middleweight champion of the world, but with the bout with Plant not happening, that goal simply isn't going to come to fruition – at least for the time being.
The negotiations between Canelo, arguably the most popular fighter on earth, and Plant, a talented member of the very tight knit PBC universe, were always going to be difficult. Promotionally speaking, Canelo is essentially a free agent, though he is currently aligned with promoter Eddie Hearn. In an age of a very divided sport of boxing, it's understandably hard for two parties to come to agreement on things. When a major fight – and all of Canelo's battles are major fights – is in play, matters naturally become even more intense.
To make matters worse, loyalty to fighters, broadcasters and promotional outlets is strong among contemporary fans. Expect many accusations to be tossed around during the next few days by people that really don't know what the truth is. This is problematic, of course, as the main goal should be to make good fights, not to point fingers and vilify. No matter. Social media has allowed the sport of boxing to consist – to a large degree, at least – of a series of fiefdoms. This, in turn, gives certain parties breathing room to double down when things like high stakes negotiations take a bad turn.
As for what's next, Canelo can once again jump up to light heavyweight to face a titlist there. He's already bested Sergey Kovalev at light heavyweight, and there's certainly some interesting fights to be made in that division. Canelo can also agree to a third fight with arch nemesis Gennady Golovkin. Although Golovkin fights at middleweight, there's little doubt the man would be willing to meet Canelo at a catch weight. The red haired star, in other words, has lucrative options. Plant, at least for the time being, doesn't seem to. Boxing, though, is nothing if not a sport of twists and turns.
More Headlines
Trainer Jose Guzman: "I Have To Make These Sacrifices"
Posted on 07/28/2021
By: Sean Crose
"He was real real sharp," says trainer Jose Guzman. "He had just come back from camp with Lomachenko," Guzman is speaking of his fighter, Steven Galeano, who defeated Marquis Hawthorne last week in impressive fashion. "For him," Guzman continues, "the sky's the limit. I feel like in the next five years, Steven is going to be a world champion." After watching Galeano's slick, disciplined performance, it's hard to shrug that assertion off. The young Bronx native is nothing if not a fighter on the rise. "His boxing IQ is very high," Guzman says of Galeano. "The kid is hungry. The kid loves boxing."
There's no doubt Galeano is a colorful figure, a college educated writer (who pens articles for Boxing Insider) he is both engaging and determined to succeed in the ring. "He doesn't have to depend on boxing," Guzman says admiringly. "His story is something special." So impressed is Guzman with his protégé that he feels that "through the next five years, people are going to hear his name a lot." One thing about Galeano that earns Guzman's nod of approval is the young New Yorker's focus and drive to succeed. For Guzman himself has proven to be willing to do what it takes to move forward.
After realizing he couldn't find the kind of success he wanted in the Big Apple, Guzman "eventually left New York" for Florida. "I had to make a decision for myself," he says, "either I was going to stay in New York doing nothing or I was going to take the risk of going down here to Florida." So far, the risk has paid off for the family man. "I'm going to give them a better life," the trainer says of his children, "so I have to make these sacrifices."
Fortunately for Guzman, he's got a number of promising fighters aside from Galeano that he helps train, Dominique Crowder among them. "We all go training at the same time," Guzman says of his stable, "all together." While Guzman and his fighters train "basically six days a week," he knows there are times where some fighters need more attention that others. "I just focus on those whose fights are near," he says. This minimalist approach seems to be working quite well. "I have a helper who helps me out," Guzman tells me, "and also the strength and conditioning coach." Although he's clearly hard working, Guzman gives the impression of being a man who loves what he does.
"It's really not that hard," he says, "because most of these guys are experienced."
More Headlines
Eddie Hearn Thinks Joshua-Fury Fight Possible For February
Posted on 07/27/2021
By: Sean Crose
"We wanted to do it in December," Eddie Hearn said to talkSport in a recent interview, "but I think with AJ fighting September 25, Fury now delayed until October, I think February is more realistic." Hearn was talking about a long awaited super fight between his fighter, Anthony Joshua, and Tyson Fury. "They had a huge offer from Saudi Arabia to do the fight there," Hearn added. Joshua and Fury had been all but set to meet in August, but an American arbitrator's ruling squashed the plan. Now Fury will be facing Deontay Wilder for the third time in October while Joshua is set to face Oleksandr Usyk in September.
Had Joshua faced Fury in August, as had been originally planned, the battle would have been for the undisputed heavyweight championship of the world. For Joshua currently holds the WBA, IBF, and WBO titles while Fury holds the lineal and WBC titles. Now, should the men even meet, it may not be for the undisputed championship. Wilder once held the WBC title himself, and has fought Fury to a draw. Usyk was recently undisputed cruiserweight champion. Hearn, at least, understands the significant chances Joshua and Fury have of losing before they ever get a chance to fight each other "First things first," said Hearn, "let's just beat Usyk, because if that doesn't go to plan we can forget about it."
Even if both Joshua and Fury win their respective upcoming fights, there's the matter of money that will have to be contended with. "Ultimately in the fight game, which is extremely dangerous and these guys are putting themselves on the line," said Hearn, "it is about generating as much money for the fight as possible." Naturally, there are many fans would like to see a Joshua-Fury fight in England, as both fighters are Englishmen. "With fans back in the UK is that an option?" Hearn asked rhetorically. "Las Vegas? We'll see."
After the miserable experience of trying to make the Joshua-Fury fight for August, Hearn isn't too keen to attempting to again get the fight made at this very moment. "No, no talks with anyone" he said, "because I don't wanna waste my time…I spent six months wasting my time so let's get these fights out of the way and let's see what happens." The question, of course, will be whether or not Joshua and Fury will be able to "get these fights out of the way" so easily. Neither man is up against an easy opponent, after all. Far from it.
More Headlines
Anthony Joshua VS Oleksandr Usyk…A No Win Scenario For AJ?
Posted on 07/25/2021
By: Sean Crose
Some certainly seem to feel that Anthony Joshua, who holds numerous heavyweight title belts, will effectively handle challenger Oleksandr Usyk when the two meet to battle for those belts in September. Joshua, after all, is a contemporary super-sized heavyweight while Usyk not all that long ago was the undisputed cruiserweight champion of the world. In other words, the size advantage for Joshua is considerable. Not insurmountable, but considerable. There have, of course, been heavyweights who have bested considerably bigger competition. Max Baer won the heavyweight crown from Primo Carnera. And Jack Dempsey was able to crush the mountainous Jess Willard when he claimed heavyweight supremacy in 1919.
Overall, though, size comes into play in boxing, especially when the likes of Anthony Joshua are involved. For Joshua is more than just height and physique. He knows how to fight. What's more, he knows how to adapt his style to the situation at hand, as he did when he regained his belts from Andy Ruiz at the end of 2019. This is not to write off Usyk, who is essentially a walking, talking skill set. If any former cruiserweight, or perhaps any heavyweight, can beat Joshua, Usyk might well be the one.
All of this is bad news for Joshua. In fact, the entire fight puts the popular Englishman in a kind of no-win situation. Should he walk through Usyk, people can argue that Joshua was simply thrown in with smaller competition, a David and Goliath battle where David entered the contest without a slingshot. Should Joshua lose, however, it would do terrible damage to his reputation. Not only losing his belts but losing them for the second time to a man who once operated a full division below heavyweight could be quite the humiliating experience. For there are those apt to forget the fact that Usyk is a world class contender, and simply home in on the fact that Joshua couldn't beat him.
The ironic thing here is that Joshua was expected to be facing Tyson Fury – another enormous heavyweight – for the undisputed championship of the world in August. An American arbitrator caused that fight to fall through, though, and now Joshau is facing Usyk while Fury battles former WBC titlist Deontay Wilder for the third time. It looks like it will be a long while before the dust settles and a true heavyweight king will be crowned and/or accepted by the public. Before that ever happens, though, Joshua must get through the talented Usyk if he wants to remain in the running, a thankless task if ever there was one.
More Headlines
Steven Galeano Impresses In Win Over Marquis Hawthorne
Posted on 07/23/2021
By: Sean Crose
Give Marquis Hawthorne this – the 8-14 vet came to Philadelphia to win on Friday night. The problem was that the 7-0 Steven Galeano was simply the sharper, more effective fighter of the two in their scheduled six round welterweight affair. What made the twenty-two year old Galeano's performance impressive was the clinical precision of the New Yorker's punches and footwork. This was a fight that was won on sharpness, and on controlling the tempo – it was essentially Galeano's bout from beginning to end. Not that Hawthorne didn't have his moments, or that he lacked drive. The man kept moving forward, firing and landing when he could.
Galeano, however, showed that he possessed a solid defense as well as a solid offense. Even when Hawthorne looked like he was landing, it seemed upon close inspection that he wasn't, at least not effectively. On top of all that, Galeano looked very comfortable in the ring Friday night. His form was fluid and he picked his shots with confidence. He also showed patience, refusing to rush himself while waiting for opportunities to arise. Needless to say, the rising prospect walked out of the ring at the 2300 Arena with a UD win, via scores of 60-54, 60-54, and 59-55.
More Headlines
Steven Galeano Looks To Continue His Rise With Victory Over Marquis Hawthorne
Posted on 07/23/2021
By: Sean Crose
There'll be a fight card this Friday at the 2300 Arena in Philadelphia. New York's Steven Galeano will be on the card, putting his undefeated record on the line against Marquis Hawthorne in a scheduled six rounder in the welterweight division. Galeano, whose record stands at 7-0, is developing a reputation as a knockout artist, for only one of the 22-year old's fights have gone the distance. Trained by the respected Jose Guzman, Galeano clearly wants to keep impressing. First, however, he'll have to get past Hawthorne.
"My opponent is extremely experienced and durable," Galeano says. "He isn't stopped on a regular basis and has been in with one undefeated prospect after another. He has upset many upcoming prospects and is known as a veteran spoiler at 140 and 147 pounds. He even has two regional belts at 147 pounds in fights he came in as the underdog."
Galeano, though, is nothing if not determined to rise through the ranks of the sport. In fact, he recently helped the one and only Vasyl Lomachenko as the Ukrainian prepared to face Masayoshi Nakatani. Galeano's own last fight was a third round knockout over Hugo Padilla this past April. "I want to fight two more fights (this year)!" he says of his future after the Hawthorne fight on Friday. "I believe two fights would be good as I steadily increase my level of competition." Galeano also wants to increase the scheduled rounds of his fights. "I look forward to potentially moving up to eight rounds this year, as well," he tells me, "a goal I believe is more than possible."
Galeano is nothing if not an interesting study. The City College of New York grad (he studied Public Relations and Journalism) is tough as nails in the ring, but is an easy man to speak with. He's also an excellent writer – as readers of Boxing Insider, who Galeano writes for, can tell. Yet Galeano is so passionate about boxing, one might think it's in his DNA. "I've been boxing on and off since I was about eight years old," he's said. "Around 13 years old, I began to take the sport seriously. That's when I really began fighting at a furious pace." The man is certainly continuing to take the sport seriously, fighting on a regular basis and keeping a realistic eye on matters.
"You get blinded and think you're going to knock everybody out," he once said to me of new fighters with power. "Not everyone is going to go down. You're going to have to earn it." If the opportunity arises this Friday night, however, fans can be guaranteed, Galeano will be looking to place another knockout win on his resume.
More Headlines
Tyson Fury: 'I'm The Last Person To Blame,' For Covid Outbreak In Training Camp
Posted on 07/22/2021
By: Sean Crose
"I couldn't have been more ready for next Saturday," lineal and WBC heavyweight champion of the world Tyson Fury has told the Daily Mail. "After that I'd have been just as ready to knock out Anthony Joshua in December." Fury was indeed supposed to meet Deontay Wilder for the third time in the ring this Saturday night in Vegas. The fight has been pushed back until October 9th, however, due to a Corona virus outbreak in Fury's camp.
'I'm the last person to blame,' Fury said of the outbreak. 'I don't have a large entourage, unlike most world champions with all their ass-licking hangers on. Since coming back into full time camp I hadn't been anywhere other than my new house here and the Top Rank gym. Nor had my team." Fury then went on to indicate he felt a sparring partner could have been responsible for bringing in Covid.
'The only people whose movements I couldn't completely control were my sparring partners, who change," he said. "They came in and out of the bubble and everyone knows this town is full of Covid. I suspect we caught it from one of them." Now, however, Fury insists that things are different. 'We will strictly control the access for sparring partners and increase testing," he said. "No masseur. No fitness coach. No dietician. Even my two brothers will have to wait to join me until fight week here in Vegas."
Fury and Wilder first met in the ring in 2018. Fury seemed to be winning the fight entering the twelfth, but a thunderous Wilder shot sent Fury to the mat. To his lasting credit, Fury got up, but the bout was ultimately ruled a draw. They met again just over a year later. This time, however, Fury – who was now trained by Sugar Hill Steward – completely dominated his man, stopping Wilder in the seventh. Covid prevented a third fight from happening and it looked like Fury would be facing fellow titlist Anthony Joshua in August. An arbitrator, however, ruled that Fury would indeed have to face Wilder again by September. Now, however, the world will have to wait until October for Fury-Wilder 3 to become a fruition.
"Mentally he's a broken man," Fury says of Wilder, who has proven to be no big fan. "I destroyed him last time in seven rounds and I will ruin him quicker next time. Inside five. He knows that if we fought ten times I would win ten times."
More Headlines
Jermell Charlo: "I Don't Want To Become Undisputed By A Narrow Controversial Decision"
Posted on 07/21/2021
By: Sean Crose
"Brian Castano is one hell of a better fighter than anyone gave him credit for and he came to fight for his life Saturday," Jermell Charlo has posted on Instagram, referring to his battle for the undisputed junior middleweight championship of the world last Saturday night. The fight between Charlo and Castano was just a terrific affair that was ultimately ruled a draw. Unfortunately, one of the three judges at ringside ruled so widely for Charlo that it put a damper on the entire affair, a sad addition to a great night of boxing, to be sure.
"If fights are scored as a whole," Charlo continued, "I landed the harder and better shots, but boxing isn't scored that way.  Boxing is scored round by round.  I've always said to take a belt from a champion you need to take that belt and the judges felt neither of us did enough to take those other belts and they ruled a draw." Charlo then went on to once again show the attitude that watchers of the contemporary boxing scene have grown to admire about him. "I don't want to become undisputed by a narrow controversial decision," he said.  "I want to make a statement.  I didn't do my part to get the KO and as always I will continue to learn and improve."
As for Castano, Charlo makes it clear in the post that there will indeed be a rematch. "When we run it back, just like I adjusted in Harrison II," he adds, "there will be no doubt about the result." For those who don't know, Charlo had previously lost to the awkward and focused Tony Harrison on the cards before coming back and defeating his man via thunderous knockout in their rematch. The Charlo in each of the two Harrison fights seemed like a different person.
Castano appears as if he'd love nothing more than a rematch. And, to be sure, there's a sense of unsettled business about the whole affair now. Plus, it's something the fans would like to see and it would (most likely) reveal the truth king of the junior middleweight division. Although it's hard to tell if a second Charlo-Castano match will come right away, it's difficult seeing either fighter being pleased with things as they now stand. That sort of thing simply doesn't appear to be in either man's nature. Which, frankly, is a pleasure to see in a world of safety-first boxing.
More Headlines
Can Caleb Plant Shock The World?
Posted on 07/21/2021
By: Sean Crose
The fight might not be signed yet, but there are very strong indications that Canelo Alvarez, the biggest and perhaps best fighter operating today, will be facing fellow super middleweight titlist Caleb Plant next as he continues along his incredible hot streak. After getting past two intensely close and controversial middleweight title bouts with Gennady Golovkin, Canelo has moved on to best the likes of Daniel Jacobs, Sergey Kovalev, Callum Smith, and Billy Joe Saunders. Now all that stands between the red haired star and the undisputed supermiddleweight championship is one Caleb Plant, the IBF's divisional titlist.
The 29 year old Plant has never lost in his 21 fight career, and no one would go so far as to say the man isn't a highly skilled fighter. Canelo, however, appears to be in his prime, an almost frightening combination of power and skill that rank him among the best in the business. What's more, Canelo's only loss came eight years ago when he was a young man in his early 20s facing the one and only Floyd Mayweather in an all out superfight. The popular Mexican fighter has developed so much since that time that it's as if another person were in their in the ring with Mayweather that long ago night.
Needless to say, Plant doesn't have the type of pedigree Canelo does. The American has bested some quality opponents, but there are no Cotto's on his resume, no Golovkins, or Mayweathers, or Kovalevs. In short, there is a shortage of star power when it comes to Plant's resume. Star power isn't everything of course, but in boxing it's generally known to go hand in hand with stellar ring performances and high level fights. Should matters get finalized, Plant will find himself in by far the biggest bout of his life. He will also find himself in his first major battle under the bright lights of a high profile mega-match.
Yet Plant undoubtedly knows that a fight with Canelo will come down to a matter of skill and will. He certainly has skill. Plant may not always be a thrilling fighter, but he's an excellent technician. Like Canleo, Plant also tends to look cool under fire. Does he simply have the strength, speed and generalship to hold his own against the great Canelo, though? The truth is, no one will know until the opening bell – though it's easy to argue that Plant has the odds are stacked against him.
More Headlines
Political Issues Follow Manny Pacquiao To America As He Trains For Errol Spence
Posted on 07/19/2021
By: Sean Crose
"Pacquiao is something of a Renaissance man," the Washington Post stated about Manny Pacquiao on Monday. "He was a congressman, and now a senator. He's won 12 major world boxing titles. He's won titles in eight weight divisions— from flyweight to welterweight. He's a pop and ballad singer (He's recorded his own ring entrance song). He's an Evangelical Christian preacher. He was a Philippine Basketball Association player-coach. He also runs a farm." Yet the Post indicates that, at the moment, Pacquiao is facing two unique challenges – one being welterweight kingpin Errol Spence, who the fighter will meet in a major fight this August – and the other being political issues back home in the Philippians.
Pacquiao has reportedly been a long standing ally of Filipino President Rodrigo Duterte. Now, however, the two men are finding themselves in opposition. What's more, there's talk of Pacquiao running for the Presidency himself. Indeed, the shouts of fans wanting their hero to run for President in the Philippians can be heard in videos of Pacquiao training in LA's Griffith Park. While Pacquiao is still quite a force at forty-plus years of age in the ring, and may well even upset the impressive Spence when they fight, it's clear the man's ring career is on the downside. The ambition that has guided Pacquiao to greatness may soon become focused completely on the politics of his homeland.
Needless to say, no one is better suited for outside activity during a major training camp than Pacquiao. His retinue is enormous when he prepares for a fight. It seems a small army is with him each morning as he does road work in the famed California hills. There always seems to be a crowd around the man – and if that's not literal truth, it's very close to it. In other words, Pacquiao's psyche seems custom made to deal with distractions.
Which is certainly a good thing, as Spence is grinding away in preparation for their battle at home in Houston. Spence is interested in neither large crowds nor in running for office. He is, however, quite interested in boxing. Add in the fact that he's younger and considerably bigger than Pacquiao and it's little wonder many, if not most, are picking the soft spoken Texan to win when he meets Pacquiao August 21st in Vegas. Pacquiao, though, has been defying the odds his entire life. It's hard to say with certainty the man absolutely will not emerge victorious – either in the ring or in politics.
More Headlines
117-111
Posted on 07/18/2021
By: Sean Crose
If you saw Saturday's Jermel Charlo-Brian Castano fight, you knew right away something was wrong when the decision was read. The fight was a brilliant, back and forth affair. Most on social media seemed to feel that Castano edged it, but frankly it wouldn't have been outrageous to say Charlo had pulled it off. Ultimately, the fight was ruled a draw, which was fair. What was most distinctly not fair was the 117-111 score in favor of Charlo submitted by judge Nelson Vazquez. It's wrong to call out Vazquez as a corrupt, or even incompetent, official without solid evidence to back those assertions up with, but when a score is as far removed from the reality of a fight as Vasquez' was, the matter should be called out and looked into.
Yet, as bad as his score was, what Vazquez did isn't unforgiveable. It was outrageous. It needs to be examined. But it wasn't unforgiveable. What it was, really, was a look at how modern boxing works, and possibly at how outside pressure likely leads to so many bad decisions. And, let's face it, boxing is LOADED with bad decisions. It always has been, but the past ten years or so have given us some doozies. The important thing to keep in mind is there seems to be two enormous PR issues at work here: a lack of confidence on the part of officials, and boxing's history of corruption.
First, the issue of confidence. Boxing is not the sport for insecurity. Whether it's a fighter, an official, a corner person, or a ring doctor, confidence in one's ability is essential. Peer pressure is a terrible thing, after all, and it's particularly acute when thousands of fans, along with state officials, promoters and networks, are pretty clearly hoping for one guy to win. No one likes to be on the outs. Accepting a judgeship for a fight however, has several responsibilities attached – and one is to view things as objectively as possible. The truth is that far too often, for whatever reason, judges simply don't deliver.
All of this leads to the second issue that impacts boxing – its history of corruption. Boxing's reputation has been harmed in the past by examples of fairness being put on the back burner. No outright corruption may have been at work on Saturday night – and, in truth, there probably wasn't any – but when you couple boxing's corrupt past with the off the wall scorecards of the present people are going to wonder. And that's a shame. What's more shameful, though, are scorecards that have no basis in reality. No matter how or why these scorecards are written up, they place the sport in a bad light.
Again.
More Headlines
After A Brilliant Battle, Charlo-Castano Is Ruled A Draw
Posted on 07/18/2021
By: Sean Crose
The 34-1 Jermell Charlo faced the 17-0-1 Brian Castano at the AT&T Center in San Antonio, Texas Saturday night. At stake was the undisputed super welterweight championship. The fight was the main attraction of a Showtime card, and was scheduled for 12 rounds.
The first round saw each man feeling his opponent out. Things got exciting in the second. Castano unloaded – then Charlo really unloaded, seemingly hurting his man in the process. Charlo flicked his jab effectively in a slower third round. One got the sense, though, that Charlo was beginning to pick his man apart.
Yet suddenly, as the round was winding down, Castano nailed Charlo – hard – with a terrific left hook. Charlo may have hurt Castano in the second, but it looked as if Castano had returned the favor in the third. In a blink of an eye, the tide had changed. Castano continued to effectively bang away in the fourth.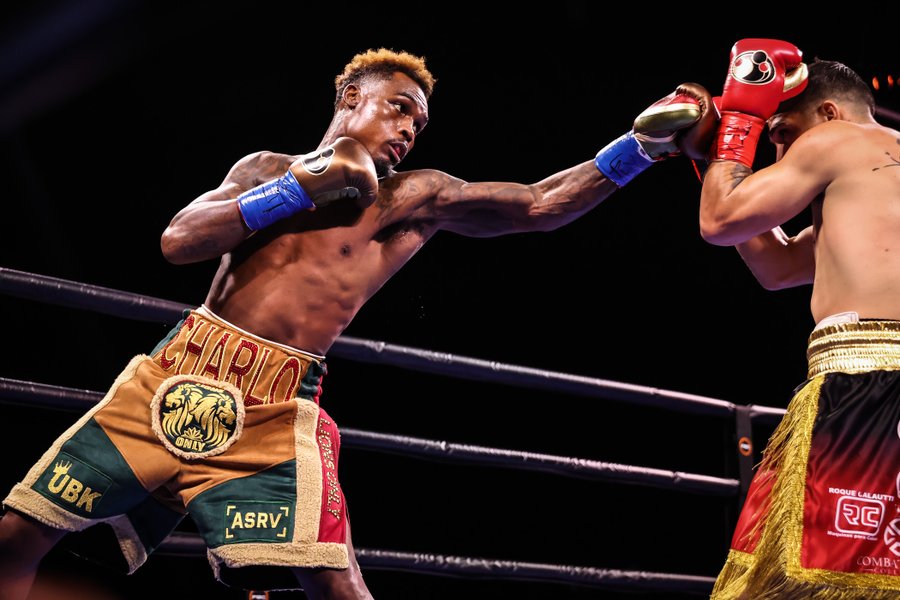 Charlo punched from range in the fifth, though Castano worked Charlo to the corner at round's end. The midpoint of the fight saw Castano continue to pressure his man while both fired away. Exciting stuff. The fireworks continued into the seventh. The fight had a clear pattern – Charlo jabbed effectively, then Castano moved in. Charlo looked like he might be hoping for a knockout in the eighth.
The ninth was very close, with Charlo landing well, but Castano having his hard hitting moments. Charlo was being punished in the tenth, but then hurt Castano not once, but twice. Castano was rocked again at round's end – but was fighting back at the bell. Castano worked his way back into the fight in the eleventh. The end of the round played out like a pitched battle. As for the last round – it went down like an artillery barrage, as much of the fight itself did.
By scores of 114-113, 117-111, 114-114…the fight was ruled a split decision draw.
More Headlines
Showtime Undercard Results: Vidal Squeaks Past Aleem; Romero KOs Yigit
Posted on 07/17/2021
By: Sean Crose
Showtime presented a three fight card live from the at the AT&T Center in San Antonio, Texas on Saturday night. First up, the 12-0 super middleweight Amilcar Vidal faced the 18-2-2 Immanuwel Aleem in a scheduled 10 rounder. Vidal had last fought back in November when he knocked out Edward Ortiz in 2. Aleem had last seen action in 2019 when he dropped a decision to Ronald Ellis.
The fight followed an interesting pattern. Aleem did well early on, while Vidal worked well heading into the middle rounds. Aleem, a pressure fighter, was able to grind away, but Vidal wasn't afraid to apply pressure himself. It was a high octane affair. At the end of the sixth, Vidal hurt his man with brutal body work.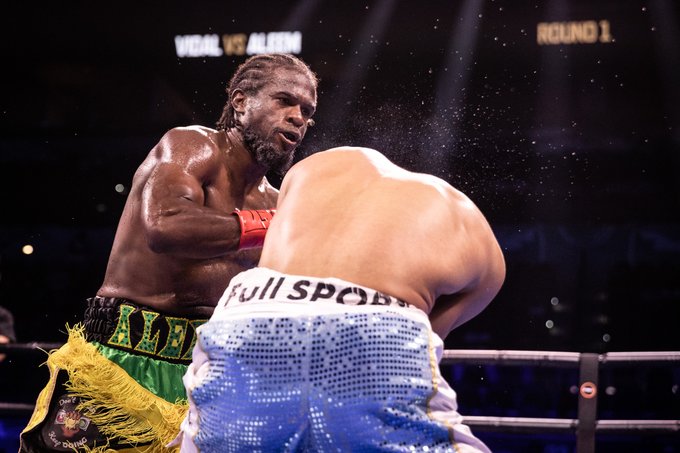 To his credit, Aleem not only survived, but returned to being competitive. By the later rounds each man was digging deep and throwing hard. Both men fired away in the tenth and final round, exciting the live crowd and the Showtime broadcast team. Vidal squeaked by with a majority decision win.
Next up, the 13-0 Rolando Romero faced the 24-1-1 Anthony Yigit in a scheduled 12 rounder. Romero's previous bout resulted in a stoppage victory over Aver Sparrow in January. Yigit had last been in the ring back in 2019 when he bested Siar Ozgul by decision. Yigit also had shown up quite heavy for the weigh in for the battle with Romero.
Although Yigit was in the game, the first few rounds seemed to be edged by Romero. The fifth round, however, was wild, with Romero being docked a point for roughhousing, then dropping his man at the bell. Yigit got up, then survived the 6th, but was sent to the mat again in the seventh. He got up, then went down again. Finally, a thunderous Romero shot put Yigit down and out.
More Headlines
Showtime Preview: Jermell Charlo Faces Brian Castano For Super Welterweight Supremacy In Main Event
Posted on 07/16/2021
By: Sean Crose
The 34-1 Jermell Charlo will be facing the 17-0-1 Brian Castano at the AT&T Center in San Antonio, Texas Saturday night. At stake will be a whole slew of title belts as well as the position of top super welterweight in the world. The fight is the main attraction of a Showtime card that will start airing at 9PM eastern time. This can truly be called a battle where two of the best fighters out there are facing off and leaving everything out on the line. That makes this weekend's bout important – and interesting.
Charlo is nothing if not interesting to watch in the ring. There's a slippery fluidity to the guy that makes him hard to hit. He can hit himself, however, well and often. This is not a defense-centric tactician, nor is it some wild man throwing caution to the wind each every time he enters the ring. In fact, the last time Charlo was in action was back in September of last year, when he repeatedly dropped and handily bested Jeison Rosario. The Houston based fighter has lost but once, to Tony Harrison, only to come back and knock Harrison out in the rematch.
As for Castano – the man has worked his way to the top of the ladder. He won the WBO super welterweight title in his last bout by decisioning Patrick Teixeira back in February of this year. The Argentine has never lost a bout. In fact, the only time Castano hasn't won was when be battled the great Erislandy Lara to a draw in 2019. He may be the lesser known of the two fighters highlighting Saturday's card, as well as the underdog, but Castano is nothing if not a livewire. Simply put, he shouldn't be underestimated. Charlo unquestionably isn't underestimating the man at all. The Charlo-Castano fight is scheduled for 12 championship rounds.
The 13-0 Rolando Romero will also appear on Saturday's card. He'll be facing the 24-1-1 Anthony Yigit for a WBA strap in a scheduled 12 rounder. Romero's last bout was a stoppage victory over Aver Sparrow in January. Yigit was last in the ring back in 2019 when he bested Siar Ozgul by decision. Lastly, the 12-0 super middleweight Amilcar Vidal will face the 18-2-2 Immanuwel Aleem in a scheduled 10 rounder. Vidal last fought back in November when he knocked out Edward Ortiz in 2. Aleem last saw action in 2019 when he dropped a decision to Ronald Ellis.
More Headlines