Tag Archives: . Mohegan Sun
Boxing Set For First PPV Card Since Start Of Pandemic
Posted on 09/20/2020
By Sean Crose
On Saturday night, boxing will once more return to the pay per view business after a long break courtesy of the Covid-19 virus. Twin brothers Jermell and Jermall Charlo will ply their trade against high level opposition at Connecticut's Mohegan Sun arena, which will be void of fans, but not Showtime cameras, which will air the festivities to a paying audience for a price of around seventy five dollars a pop. The last major boxing card to air on pay per view was February's Tyson Fury – Deontay Wilder rematch. Much has changed in the world since that time, but Showtime and Premiere Boxing Champions, which is presenting the card, are betting fans will still be willing to pay for prestige matchups.
Older brother Jermall will be defending his WBC middleweight title against Sergiy Derevyanchenko in a scheduled 12 rounder. This is about as good a middleweight battle one could find that doesn't have the words Canelo versus Golovkin attached to it. Jermall, who has built up a 30-0 record, looks to be on the cusp of stardom while Derevyanchenko's two losses were not only competetive fights, but were against no less than Golovkin and Daniel Jacobs.
Younger brother Jermell, on the other hand, will be facing WBA, WBC, and IBF junior middleweight champion Jeison Rosario. Jermell has but a single loss on his 33-1 resume, and that was against Tony Harrison, who Jermell clobbered in their rematch. As for Rosario – the man rattled the boxing world when he dethroned the popular champion Julian Williams by knockout last January. There's little doubt the 20-1-1 fighter, who hasn't lost in three years and nine bouts, is looking to shake things up again this Saturday. Like his slightly older brother, Jermell looks to be in a real fight this weekend.
The question leading into Saturday, of course, is whether or not fans are going to line up to purchase the card in adequate numbers. While there's no doubt Showtime and PBC are presenting a high quality lineup, the Charlos have never been under this kind of spotlight before. What's more, boxing hasn't been bringing big numbers to pay per view in a while. Last winter's Fury-Wilder rematch, for instance, was said to be a financial disappointment. Worth noting, however, is the fact that most true pay per view draws become draws incrementally over time. Whether that will be the path for either Charlo brother remains to be seen.
More Headlines
Showtime Recap: Lubin Decisions Gausha In Low Octane Fight
Posted on 09/20/2020
By: Sean Crose
Showtime and Premiere Boxing Champions presented a WBC junior middleweight title eliminator Saturday evening with the 22-1 Erickson Lubin taking on the 21-1-1 Terrell Gausha at Connecticut's Mohegan Sun Arena. Both men were looking to move on from their sole losses towards greener pastures. The first round was essentially a feeling out process for the two fighters. Lubin pursued his man in the second, but nothing significant was landed. Things remained slow in round three. Both fighters were too tight to make things interesting, though Lubin seemed to have an edge.
With Gausha not doing much, Lubin continued to look for shots in the fourth. Few clean punches appeared to land in the fifth. By the midway point of the fight, it was clear that it was thus far a battle of hesitation, excessive caution…and virtually no follow through on the part of either fighter. Without a crowd, there were moments of virtual silence. "Don't get bored in here, bro," Lubin was told by his corner.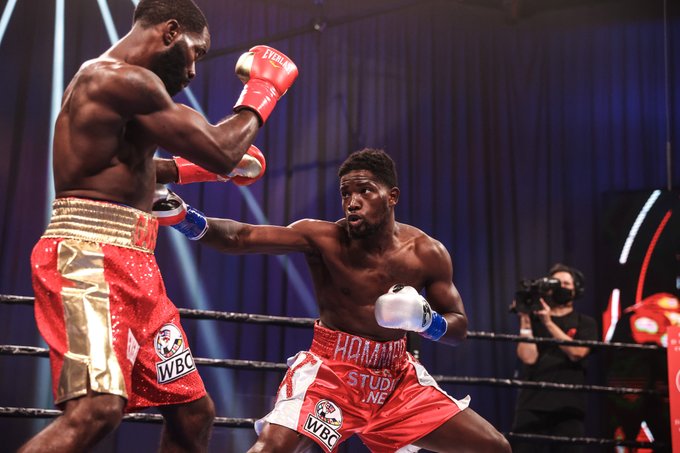 The pace actually began to pick up in the eighth. By the ninth the combatants finally began to engage. There were still long seconds of inaction in the tenth, but Lubin was at least trying to land. Then – out of the blue – Gausha hurt Lubin with a left. Lubin, to his credit, didn't go down. The eleventh was a close affair that showcased decent action. By the final round, it was clear that Gausha simply didn't have the consistent sense of urgency required to be truly effective.
Lubin walked away with a UD win by scores of 115-113, 116-112, and 118-110.
More Headlines
Showtime Recap: Rising Welterweight Ennis Tops Abreu
Posted on 09/19/2020
By Sean Crose
Rising welterweight Jaron Ennis, 25-0, took on the 25-3-1 Juan Carlos Abreu in a scheduled 10 rounder at the Mohegan Sun Arena on Saturday. The fight was the opening bout of a three match Premiere Boxing Champions card aired lived by Showtime. Abreu showed up several pounds over the limit at Friday's weigh in, but Ennis' team was happy to allow the fight to proceed.
Sure enough, Ennis was cool, hard hitting and in control during the first three rounds. Abreu fought hard in the fourth. Things then became rough, as Ennis dropped his man in the fifth. Abreu got up, but seemed to want to fight after the bell. Ennis knocked down Abreu again early in the sixth. The game Abreu got up once more, but seconds later was sent to the mat a third time. The referee wisely stopped the fight.
More Headlines
Jermall Charlo: "I Know That It's My Time To Shine"
Posted on 09/14/2020
By Sean Crose
"I know that it's my time to shine," WBC middleweight champ Jermall Charlo said at a public virtual workout on Monday, "and my time to give everyone the best that I can give. I'm striving to be one of the best to ever lace up a pair of gloves." Charlo is preparing to face off against Sergiy Derevyanchenko at the Mohegan Sun arena on Saturday, September 26th. The Pay Per View event will be aired live beginning at 7 PM Eastern Time courtesy of Showtime and Premiere Boxing Champions.
Along with Gennady Golovkin, Canelo Alvarez, and Demetrius Andrade, Charlo is considered to be at or near the top of the highly competitive middleweight division. "The fans that love me can expect me to do what I do," he said. "The fans who don't know about me, they're going to see a smart, strong and athletic fighter. You're going to see all of it in the ring on September 26." Although lauded and talented, there's no doubt in anyone's mind that Charlo will be facing serious competition in Derevyanchenko. This is by no means a tuneup match, something Charlo is keenly aware of.
"Derevyanchenko is a come forward fighter," said Charlo. "He's going to bring a lot of power and speed with good technical skills." Yet the defending champion is confident he will step out of the ring after the Derevyanchenko fight still undefeated. "He calls himself 'The Technician'," Charlo said of his opponent, "but we'll see how technical he is once I start putting my jab in his face. I'm going to use all my natural skills in this fight."
Along with his twin brother, Jermell, who will be engaged in a title fight on the same card next week, Charlo has been steadily climbing the ranks of boxing's top fighters. It's a journey both brothers aim to continue. "A lot of people don't really know where the Charlos came from," said the WBC champion "and they're getting the chance to learn it throughout this time. It's taken to this point for everyone to see that we belong on this big stage. I'm grateful for everyone around me who's embraced me with love." 
Although the future looks bright – at least until he's in the ring with Derevyanchenko, Charlo looks at things with a degree of realism. "We don't have too much longer to be doing this," he said on Monday. "Where are the rest of the belts at? I'm ready. Watch next Saturday night, because I'm making this statement loud for everyone who doubted me."
More Headlines
"Charlo Doubleheader" To Run $74.95 On PPV
Posted on 09/12/2020
By: Sean Crose
Those fight fans hoping for a drastic cut in Pay Per View prices are going to have to wait. Although next week's Showtime PPV card featuring the Charlo brothers isn't on the scale of Mayweather-Pacquiao, or even Canelo-Golovkin, the "suggested" price of the event is between fifty and one hundred dollars. Showtime announced today that: "The SHOWTIME PPV event, CHARLO DOUBLEHEADER, is available for purchase at a suggested retain price (SRP) of $74.95 and includes six compelling fights, five of which are championship bouts." Needless to say, the announced cost of viewing the event was immediately met with groans on social media.
Not that the CHARLO DOUBLEHEADER is a bad card. Not by a longshot. In fact, it's quite strong. However, many – if not most – fans want big names to appear if they're to be happy spending upwards of fifty dollars for a PPV event. Both Charlos, Jermell and Jermall, are must see TV for boxing lovers. Yet must see TV and must see PPV are two entirely different things. As things stand in the late-to-post Mayweather era, fans haven't proven eager to cough up money to watch anyone not named Canelo, Joshua, Fury or Wilder.
Plus, there's other PPV cards this year that will be attracting attention. Gervonta Davis will headline a card this autumn when he goes up against popular Leo Santa Cruz. Then, closer to the holidays, Erroll Spence Jr will return to the ring for the first time since his accident to face Danny Garcia. A few years back, Premiere Boxing Champions – which, along with Showtime, is the force behind these cards – would have headlined all these main events on basic cable. Those days, however, are not these days. Thus, the price tag. All things considered, next week's CHARLO DOUBLEHEADER may prove to be a tough sell.
Again, though, the card is strong. Very strong. Unlike many PPV events, this one promises a good night of boxing. This isn't a top heavy presentation, where the main event is essentially the only draw. This is a full night of serious fights. Not only will the 30-0 Jermall be defending his WBC middleweight title against the extremely dangerous 13-2 Sergiy Derevyanchenko, younger brother Jermell, at 33-1, will face off against the 20-1-1 WBA, WBC, and IBF super welterweight champ Jeison Rosario. The undercard is just as promising.
"Luis Nery will battle Aaron Alameda for the vacant WBC Super Bantamweight World Championship in the co-feature," Showtime states in its press release, "while former unified champion Danny Roman faces former champion Juan Carlos Payano in a WBC Super Bantamweight title eliminator." While the CHARLO DOUBLEHEADER isn't featuring household names, it is featuring major contests between top level fighters…who may well be household names in a matter of time.
The CHARLO DOUBLEHEADER will air live from the Mohegan Sun Arena September 26th starting 7 PM Eastern Time.
More Headlines
Jermell Charlo: "I'm Dangerous."
Posted on 09/03/2020
By: Sean Crose
"We have absolutely nothing to lose," Jeison Rosaio's trainer, Luis Perez said in the leadup to Rosario's fight last January with Julian "J Rock" Williams. That was probably true. Now, however, by virtue of a stunning win over Williams last winter, Rosario will be walking into the ring in a few weeks with the WBA, IBF, and WBO junior middleweight title belts around his waist. And his opponent will be none other than former titlist Jermell Charlo, who in his last fight knocked out Tony Harrison, the only man to ever beat him in the ring. In short, team Rosario has everything to lose this time around. Not that they're worried.
"It's going to be a great war," the 20-1-1 fighter claimed during a virtual press conference earlier this week. "I'm dedicated, decided, motivated for this fight." Pleased with his preparation, Rosario noted that his ambition didn't die when he became a holder of three belts. "The training has also been going great," he said. "I'm more hungry than when I acquired the title." Still, the twenty-five year old is obviously pleased with where he is in his career. "I thank God," he said, "for the opportunity to fight all these great fighters that I'm fighting now."
Having previously bounced back from his only ring loss, Charlo made it clear during the conference he was ready to keep moving forward by taking Rosario's belts. "I'm stronger, I'm faster than I've ever been," said the 33-1 Houston based fighter. "I never really got out of shape." Although he credited Rosario with an impressive title win, the thirty year old Charlo also exuded a large degree of confidence during ht proceedings. "Congratulations to Rosario for fighting J Rock and getting the chance," he said, before adding: "I'm more ready for this fight than I've ever been."
Although neither man has fought in quite some time due to Covid-19, Charlo claimed he made the most of his down time. "I got a chance to dig down inside," he said. "I'm dangerous." Having made the most of his time out of the ring, Charlo exuded an eagerness to once again prove himself. "I'm a smart guy. I do my homework," he claimed.  "I'm excited to go twelve rounds." As for the publicity he receives as one half of boxing's Charlo twins, the fighter claimed concerns over such matters were now behind him. "As I mature as a man," he said, "I don't care what the media people think."
Charlo will face off against Rosario as part of a pay per view card on September 26th, which will also feature Jermall Charlo battling Sergiy Derevyenchenko. The bouts will be presented by PBC and Showtime, and will be aired live from the Mohegan Sun Casino in Uncasville, Connecticut.
More Headlines