Posted on 07/30/2023
By: Sean Crose
The tension was high as WBC, WBA, and IBF welterweight champion Errol Spence stepped inside the ring Saturday night to face the biggest opponent of his career. The tension at the T-Mobile Arena in Las Vegas remained high when that opponent, WBO welterweight champion Terence Crawford, began his ring walk moments later, accompanied by none other than Eminem. There was good reason for the electric atmosphere, for the winner of the scheduled 12 round affair would be the undisputed welterweight champion of the world – the first undisputed champion in the history of the illustrious division. It was, to be sure, the moment of truth.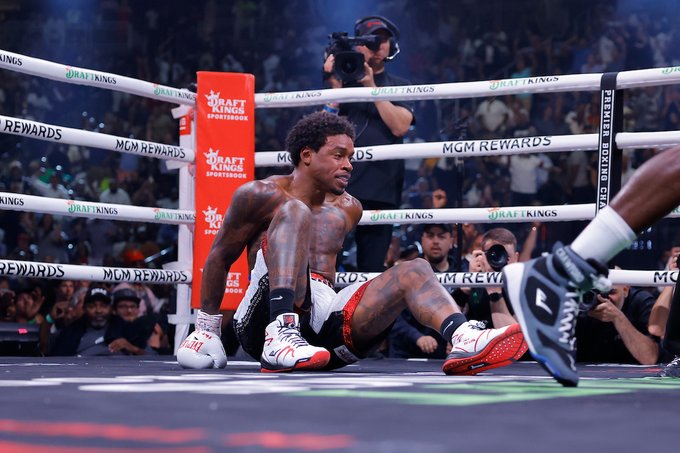 The 39-0 Crawford and the 28-0 Spence both answered the opening bell in the southpaw stance. The first round was tight, with Spence ultimately being the more active of the two. The second was very close – until a sharp southpaw jab put Spence to the mat. Spence beat the count and survived the few seconds left in the round, but the point was made. Spence came out hard in the third. Spence remained ultra aggressive throughout the round, but Crawford's sharp shooting was notable.
By the fourth, Spence was getting tuned up. His face was a mess and Crawford was landing stinging shots. The ring doctor took a look at Spence before the fifth began. Spence was given the O.K. by the doctor, but he went on to take a terrible beating. Still, he was able to land a few good shots on Crawford before the round ended. What's more, he fought ferociously in the sixth. Ultimately, however, the man was outmatched. Crawford wasn't even breathing heavy at the start of the seventh. Spence was dropped again about a minute into the round. Spence got up before the count of ten, but his corner should have started to consider stopping the fight.
A sledgehammer of a right sent Spence down a third time before round's end. To his eternal credit, Spence somehow beat the count. Yet his face was puffy in the eighth. Spence's courage was extraordinary, but the thrashing he was taking was worrisome. His face coated in blood, Spence took a murderous thrashing in the ninth until the referee finally stopped the bout.