Posted on 08/15/2023
By: Sean Crose
Junior middleweight titlist Jermell Charlo sat on a stage with Canelo Alvarez and their respective camps in New York on Tuesday. The reason for the gathering, of course, was to promote the two fighter's showdown on September 30th. They're an unlikely pairing, junior middleweight Charlo and super middleweight Canelo. Indeed, some thought Canelo was more likely face Charlo's twin brother Jermall. Boxing is full of surprises, however, and there's no denying Canelo-Charlo is an intriguing fight.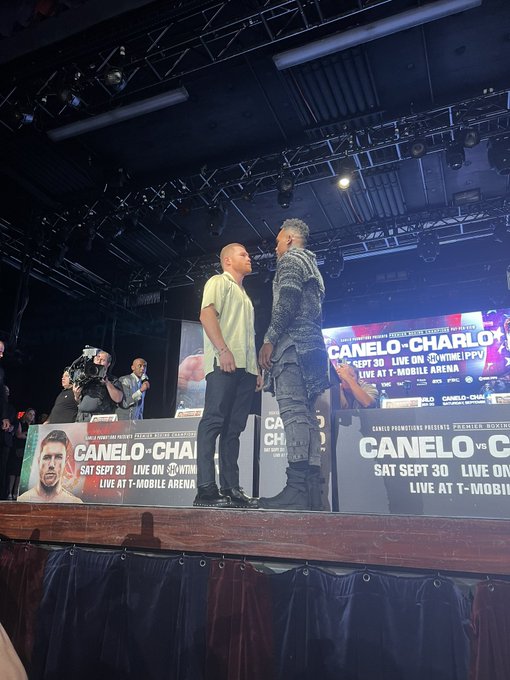 "They're legends in the game of boxing," Charlo said of Canelo and his team. "They did it. They made it." Still, the Texan made it clear that he wants what Canelo now has. "I just want to be the one to get in there and take away from all of that," he added. "It's time now." Charlo addressed the notion that he's in dangerous waters jumping up two weight divisions to try to best a fighter of Canelo's caliber. As far as Charlo's concerned, though, considerable success comes from taking considerable challenges. "When you want to win something this big you've got to risk it all," he said. "I'm going to be training my ass off. I'm going crazy with it."
Charlo's sense of daring has actually impressed Canelo himself. "He take's challenges like me," the pound for pound great said of Charlo. Canelo, who has worked with the likes of such promoters as Oscar De La Hoya, and Eddie Hearn went on to say something that no doubt raised some eyebrows. "I think," he said, "right now the best promotions are Canelo Promotions and PBC (Premier Boxing Champions). The PBC, which is run by the publicity shy Al Haymon, is a main competitor of De La Hoya's Golden Boy Promotions, and Hearn's Matchroom Promotions.
With that being said, Canelo has long been considered one of the absolute best fighters in the business. The 33 year old boasts a record of 59-2-2 and has met and defeated some of the biggest names in the business, such as Gennady Golovkin, Miguel Cotta, Shane Mosely, and numerous others. As for the 35-1-1 Charlo, he may be the same age as Canelo, but he doesn't have quite the resume. Not that Charlo's record isn't impressive. The man has beaten some of the biggest challenges in the division where he now rightfully rules supreme. Unfortunately, Charlo will reportedly have to give up his undisputed junior middleweight crown when he squares off against undisputed super middleweight champion Canelo in September.