Posted on 07/09/2023
By: Sean Crose
Rising star Jaron "Boots" Ennis wanted to knock Roiman Villa out on Saturday night. Fighting in front of Showtime cameras in Atlantic City, he did just that. Yet it wasn't easy for the 31-0 welterweight. Not that Ennis did anything wrong or looked weak in the least. It was simply that the 26-2 Villa was a man with absolutely no quit in him. Ennis had to chop his opponent down like a redwood. That he was able to so makes it clear just how good Ennis is.
The first round saw Ennis keeping his distance while firing off a sharp orthodox jab. Ennis switched to southpaw at the beginning of the second. Less than a minute into the chapter, Ennis had already bloodied Villa's nose. By the end of the round, Ennis was back in an orthodox stand and was well in control of the proceedings. Villa had some sharp moments in the third, letting Ennis know that he too could hit clean and hard. Indeed, by the end of the round, a firefight had erupted. How long could Villa hang with an opponent of Ennis' caliber, however?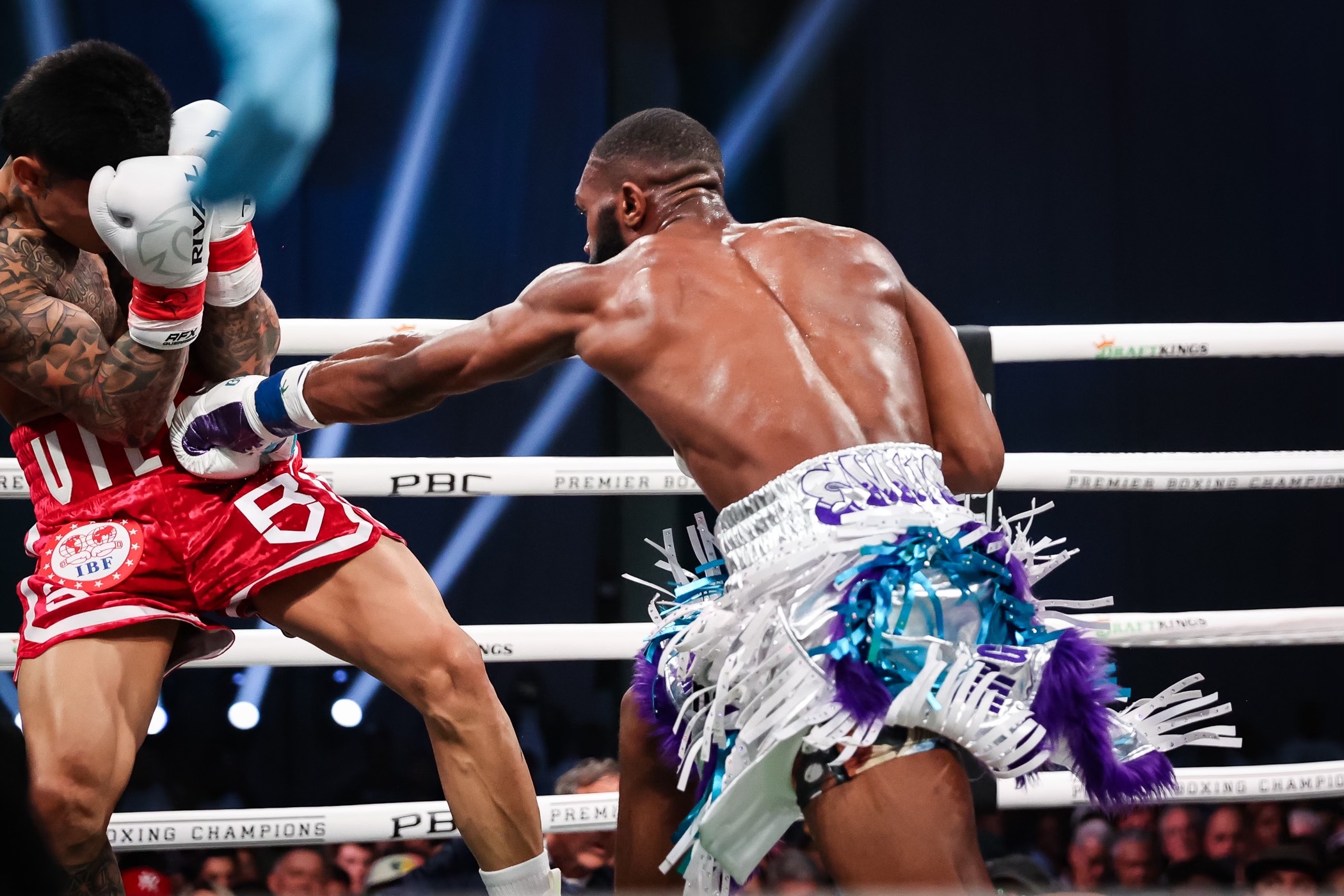 Villa kept moving forward in the fourth, but Ennis, with his faster, cleaner punches, was able to reassert control of the fight. Credit, however, had to go to Villa in the fifth, for the man was not only continuing to come forward, he was not falling apart under the stream of Ennis' blistering punches. Without doubt, it was a fast paced and entertaining battle. A thunderous right rocked Villa in the sixth. He held on for dear life while Ennis worked to end the fight early. Villa was still standing at the sound of the bell.
Ennis nailed his man again halfway through the seventh – this time with a left rather than a right. Villa didn't go down, however, and kept firing away. Whatever Villa was paid for Saturday's fight, it wasn't enough. In the eighth, it was simply a wonder that Villa was remaining on his feet for one round after another. He was taking a beating, but he wouldn't stop fighting. Ennis' fists thudded against Villa's head in the ninth. An onslaught of shots finally sent Villa to the mat in the tenth. It was disturbing watching the gutsy Villa go down in what seemed like slow motion. Fortunately, the referee knew enough to stop the fight without even starting to count.