Posted on 07/28/2023
By: Sean Crose
It may very well be the best matchup in a year filled with great matchups. WBO welterweight champion Terence Crawford will be putting his belt on the line Saturday night in Las Vegas against WBC, WBA, and IBF welterweight champion Errol Spence, who will have his own belts on the line, as well. There has been much talk this week of whether or not the winner of this throwdown will be regarded as the best pound for pound fighter on earth. Maybe. Maybe not. What fans can be certain of, however, is the fact this will be an undisputed title fight in a top division that will see the best facing off against the best. In an era of pay per view overkill, Crawford-Spence is actually pay per view worthy.
So, whose going to win?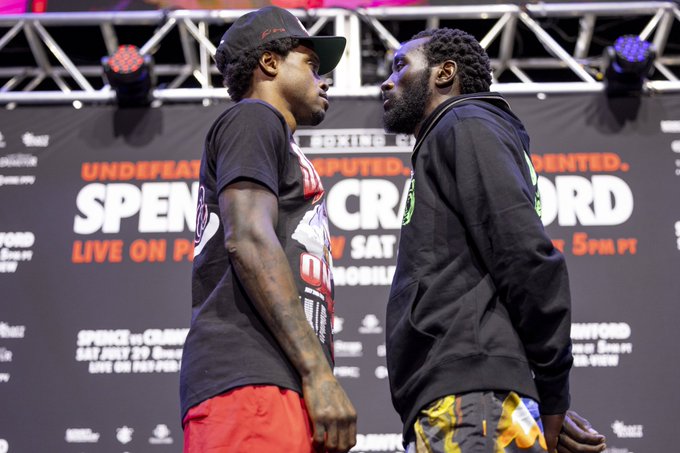 It's a tough question, one that has to be carefully thought over before responding. Both men are undefeated power punchers who have essentially cleaned out their available peers (the exception being Keith Thurman, who at this point might actually be semi-retired). Both are also in their early thirties and have been in the spotlight before. In other words, they're used to the pressures that come with high level and highly promoted matchups.
The 28-0 Spence has stopped all but six of his opponents. He's beaten the likes of Kell Brook, Shawn Porter, Mikey Garcia and others. He's big for a welterweight, but the 33 year old's greatest asset is surely his strength. To watch Spence fight is to literally witness the man thudding on his competition. His body work is absolutely brutal. Spence is also able to employ an effective high guard and has an ability to pick his shots well.
As for the 35 year old Crawford, the Nebraska native boasts a 39-0 record with thirty knockouts. He, too, has bested men like Kell Brook, and Shawn Porter. He's also defeated such notables as Amir Khan and Jeff Horn. What really makes Crawford rise above the crop, however, is his confidence. He literally exudes gunfighter cool while in the middle of the action in the ring. What's more, Crawford is an ambidextrous fighter with pinpoint accuracy and a killer instinct. He has an effective probing jab and often fights out of a crouch, whereas Spence essentially fights upright.
And that, really, should make all the difference in the fight. Bottom line – Spence seems easier to hit than Crawford does. Great as he is – and Spence is nothing if not a terrific fighter – Spence is rather stationary. Against the more fluid stylings of Crawford, that's a recipe for danger. Of course, Spence's power can end things in destructive fashion, but Crawford is likely too smart a fighter to leave himself so vulnerable. The odds are that he's going to carefully work in on Spence before going for the finish.
Prediction: Crawford by 9th round TKO.
*Crawford-Spence is scheduled for 12 rounds and will be going down Saturday night (7/29/23) at the T-Mobile arena in Las Vegas. It will be the main event of a Showtime Pay Per View card.
**Image: Showtime