Posted on 08/12/2023
By: Sean Crose
Anthony Joshua proved one of boxing's oldest adages to be true Saturday night in London – that all it takes in the ring is a second. For in the seventh round of what had been a challenging fight for the former WBA, WBO and IBF heavyweight champion, Joshua landed a howitzer on his opponent Robert Helenius, one which sent the Finnish warrior crashing to the canvas, instantly ending their heavyweight battle. All it took was a second. Now, after several tough years, Joshua has once again ended a fight in impressive fashion. It was something the 33 year old Londoner desperately needed.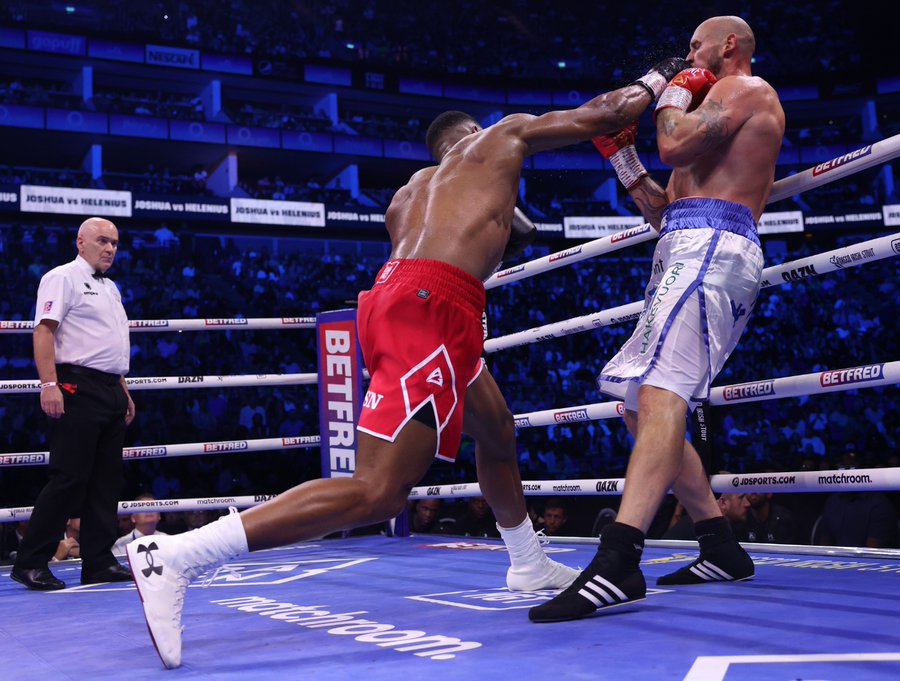 After losing his heavyweight titles to walking skill set Oleksandr Usyk in 2021, Joshua went on to lose to Usyk again last year. To make matters worse, Joshua displayed some strange behavior afterward, rambling into the ring mic in front of countless people. Again, Joshua needed Saturday's win badly. Even the man's previous fight, a lackluster performance against American Jermaine Franklin back in the spring, provided more questions than answeres. If nothing else, Joshua proved against Helenius that he can still turn out the lights. That's important, for it's Joshua's power that made him one of the most successful and popular individuals in the fight game. And now he's proven once more that he can still be a must-see attraction.
Not that Joshua performed an act of athletic perfection on Saturday. Far from it. Sure enough, the man arguably appeared lackluster once again throughout most of the fight. When he decided to finally toss off his punches aggressively, though, Joshua was able to set his man up for the knockout of the year candidate he delivered. Whether or not this victory brings Joshua the must needed confidence it's suspected he needs remains to be seen. Yet as things stand at the moment, Joshua is once again one of the big names in the big man's division.
That's good news for fans, especially now that talk between a long awaited, much hyped bout, between Joshua and American powerhouse Deontay Wilder is once again buzzing about. Both men have fallen from on high, but each man has proven capable of climbing back upward towards the hazy peak of the heavyweight summit. Plus, these are two fighters with the power to take down walls with their fists. A clash of the titans indeed.