Posted on 10/15/2023
By: Sean Crose
WBO junior middleweight titlist Tim Tszyu took on hard hitting contender Brian Mendoza Sunday in Australia. The scheduled twelve round affair was Tszyu's first title defense and was the main event of a Showtime/PBC card. Suffice to say, America's Mendoza was facing more than just Tszyu, as the defending titlist was fighting in his Australian homeland. The first round saw the 23-0 Tszyou hit the 22-2 Mendoza clean. Mendoza, on the other hand, fired his jab and went to the body.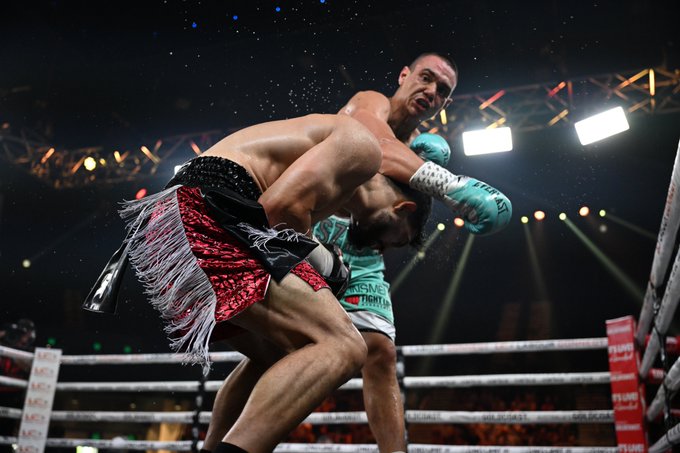 Tszyu appeared to be be relaxed and effective in the second. Not much was happening, but Tszyu looked as if he might still be studying his man. With that being said, Mendoza appeared to be doing the stronger work in the third. In a slow fight, he was managing to keep somewhat active. What's more, Mendoza continued to work the body in the fourth, much as he had been in previous rounds.
In the fifth, Tszyu started to come alive, hitting hard and with frequency. Mendoza began the sixth employing effective aggression. He then went on to employ a strong defense in order to keep Tszyu from doing any damage of note. It looked early on in the seventh as if Mendoza's hand speed was frustrating the defending champion. With that in mind, Tszyu was able to land and land hard as the round progressed. Mendoza looked to be in trouble, though he fought back gamely.
Still, it seemed like Mendoza's gas tank might have been starting to empty in the eighth. By the ninth, Tszyu's punches were regularly finding a home. The Aussie was now clearly in control of the fight. Tszyu continue to break down his man in the tenth. Indeed, Tszyu launched a final assault to finish Mendoza – but Mendoza didn't go down. Credit had to go to the American. He was losing, not doubt about it, but he was going out on his sword. Mendoza was essentially a punching bag in the eleventh, though he never stopped fighting.
The twelfth and final round was a study in guts as Mendoza tried to win with all the remaining energy he had left. The night, however, belonged to the fresher, stronger, more skilled Tszyu. After the final bell, the defending champion was awarded a unanimous decision win from the judges.
*Image: Showtime