Posted on 07/27/2023
By: Sean Crose
Terence Crawford stepped onto the stage in Las Vegas Thursday afternoon wearing a sweatshirt, shorts, and what was pretty much a full beard. Crawford's opponent for welterweight supremacy this Saturday, Errol Spence, got onto the stage moments later wearing a baseball hat, shorts, and t-shirt. The opening staredown to their final pre fight press conference was cordial but intense, with neither man blinking. After the one and only Mike Tyson conducted a ceremonial coin toss to see who would enter the ring first this weekend (Crawford won), and the honorary speeches were given, the two fighters and their camps got to speak their minds.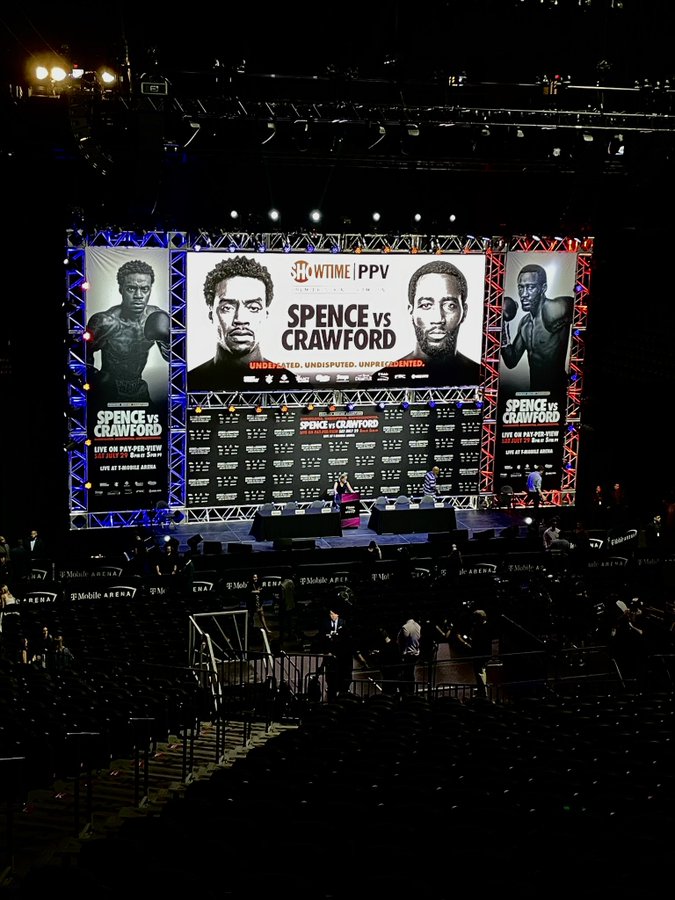 "We gonna have a fish fry on Saturday," said Crawford before turning his attention to the rowdy and disruptive audience gathered. "It can turn deadly real quick on both sides," he warned the heated crowd, requesting instead that the emotional temperature be turned down for the well being of everyone. "Let's make this even a success," he added. The gathered crowd was not up for the lecture, however, and Crawford himself ended up uttering vulgarities at a heckler later on during the press conference. As for Spence, he was quick to announce that the only fish about to be consumed on Saturday was Crawford, who he refers to as "Crawfish."
"We're going to have a crawfish boil," he said. "We're going to boil his ass." Crawford, of course, was having none of it. "Everything about Terence Crawford is better than Errol Spence Jr," he said. "Not taking any credit away from Errol. He's a great fighter…but when you compare him to Terence Crawford, there is no comparison." Crawford went on to make it clear that this is indeed his era. "This is the Terence Bud Crawford era. You look at the body of work I've done and each weight class I've been in, you can't deny that," he said. "I've never had a fight I didn't look spectacular in."
Spence indicated Crawford's glory days will end when the two men square off in their much hyped pay per view event in Las Vegas. "I'm going to win because I'm the better fighter," he said. "I'm going to track him down and I'm going to break his will." Although they disagreed on the outcome, both fighters made it clear it would be a fight that would be long remembered. "Man, I want to be in an Errol Spence-Terence Crawford type fight," Spence imagined a future fighter one day saying.
Photo: Showtime Boxing