Posted on 07/20/2023
By: Sean Crose
He's won world titles in three weight divisions. He's knocked out close to ninety percent of his opponents. He's unquestionably one of the best pound for pound fighters on the planet. And he's about to face perhaps his toughest challenge of his career. Naoya Inoue, at just thirty years of age, is having quite a career for himself. Since his first professional fight, way back in 2012, Inoue, whose known as "The Monster," has appeared singularly determined to vanquish all who stand before him. After twenty-four fights, he has yet to fail. American Stephen Fulton, however, aims to change all that when he and Inoue square off next week at Ariake Arena in Inoue's home nation of Japan.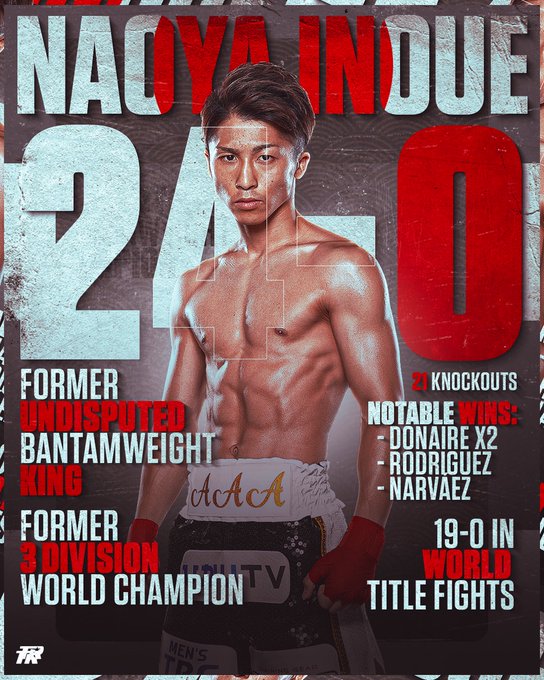 Like Inoue, America's Stephen Fulton has yet to lose a single fight. A product of Philadelphia's famed boxing community the twenty-nine year old Fulton possess a slick, fluid ring style, one which some think can frustrate Inoue and perhaps even get the lauded multi titlist off his game. Again, Fulton is considered by some to be Inoue's toughest opponent. Considering the fact that Inoue has bested future Hall of Famer Nonito Donaire, that's really saying something. Yet questions will be following Fulton into the ring that night, as well.
For instance, what will happen if or when the man gets caught? Sly as he is in the ring, it's hard to imagine Fulton going a full fight without taking a shot to the head at least somewhat cleanly at some point. This is a twelve round title battle, after all. Also, how will fighting so far from home impact Fulton the night of the fight? Fulton has no doubt travelled during the course of his career, but Tokyo is a long way from Philadelphia. Lastly, what will happen if Inoue is able to work the body in that brutal way only Inoue can seem to? Lesser men have fallen to pieces under such a blistering attach.
Still, it's Inoue who is the challenger here. Fulton, when all is said and done, is the one who will slip through the ropes with the WBC and WBO super bantamweight titles in his possession next week. Inoue may be the local favorite when he and Fulton answer the bell in on the 25th, but Fulton will be the belt holder. At least as long as the fight lasts, that is. Perhaps even longer. One just can't tell when it comes to boxing. The only real certainty when it comes to this fight is both men will be brining their A-Games into the ring with them.