Posted on 07/29/2023
By: Sean Crose
The 21-0 lightweight Giovanni Cabrera took on the popular 24-2-1 Isaac Cruz Saturday night at the T-Mobile Arena in Las Vegas. The scheduled 12 round affair was a title eliminator. Cabrera held his hands very low throughout the first. With that being said, Cruz was able to land well at the end of the chapter. Cabrera tried to maintain range while Cruz applied pressure in the second. By the third it looked as is if Cabrera's goal might be to remain on his bicycle throughout the fight. The fourth had Cabrera fighting off the rear foot. Cabrera was able to keep his man at bay in the fifth…until he wasn't, for Cruz was able to land well several times.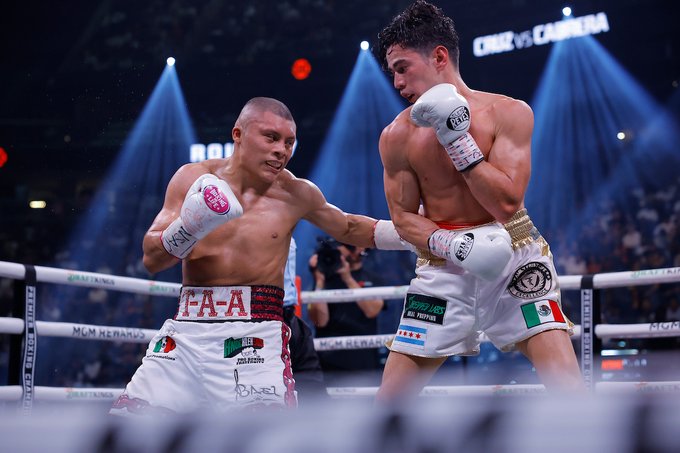 The sixth saw Cruz landing on his man effectively and Cabrera going on offense. The fight was changing. The seventh was fast paced and interesting, with each man doing good work. Cabrera employed his jab to good effect in the eighth. To make things worse for Cruz, he was given a point deduction for using his head illegally. Cabrera used his height and reach to keep Cruz from landing well on him in the ninth. As a strange aside, Cruz had taken to leaning against the ropes every so often for several rounds, perhaps as a kind of rope-a-dope strategy.
Both men appeared exhausted in the tenth. Cruz became extremely inactive in the eleventh. Was he feeling comfortably ahead? Exhausted? Frustrated? It was difficult to tell. The twelfth and final round saw – strangely enough – Cruz on his bicycle, albeit briefly. Neither man was able to land particularly well in the final chapter of this rather odd fight. Ultimately, the judges ruled in favor of Cruz via split decision.
Image: Showtime