Posted on 10/21/2023
By: Sean Crose
Golden Boy Promotions and the DAZN streaming service had an explosive main event Saturday as welterweights Alex Rocha and Giovani Santillan did battle at Inglewood, California's Kia Forum. The winner would have the biggest names in this biggest of divisions on his horizon. The 23-1 Rocha fired his jab in the first while the 31-0 Santillan came forward behind a high guard. Suffice to say, it was the underdog Santillan who took what ended up being an exciting opening round.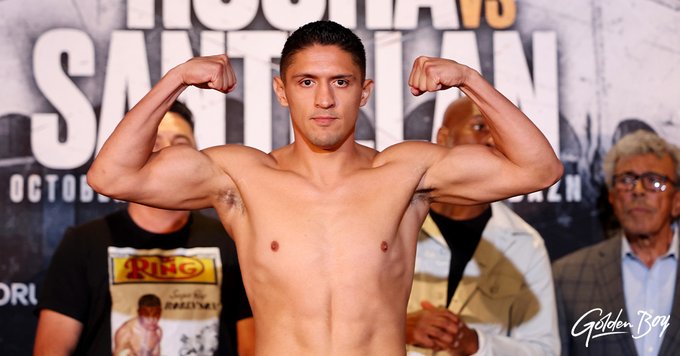 Rocha lowered the intensity and worked the body in the second. The popular Rocha then moved on to beating his man to the punch in the third. Santillan, however, was working the body himself – to noticeable effect. Sure enough, Santillan continued to grind in the fourth. He was rewarded for his efforts when a thunderous combination put Rocha on the mat at the beginning of the fifth.
His face a mask of blood, Rocha managed to get back to his feet in time. Santillan was on him like a pit bull, ripping shots at his foe. Rocha slipped to the mat, but once again got back to his feet. Yet another crushing series of right hooks put Rocha down once more. To his everlasting credit, Rocha once again beat the count. Indeed, the man survived the round. Still, Rocha had taken a terrible beating. In the sixth, Santillan decided to end things. A final flurry in the center of the ring put Rocha to his knees. The referee, having seen enough, stopped the fight.
"We didn't know how the fight was going to turn out," a sportsmanlike and soft spoken Santillan admitted afterward, "but it was the result we were looking for." He may be soft spoken but Santillan is truly someone who lets his fists do the talking. He's a legitimate divisional threat.
*Image: Golden Boy Promotions